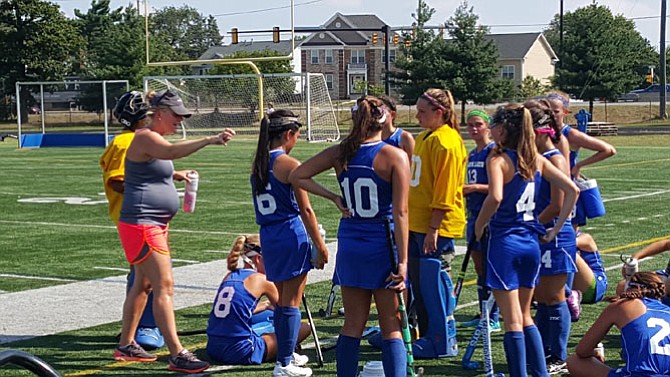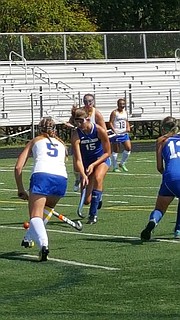 Ani Davis' hard work in the offseason paid off in the form of a hat trick during the first half of the South Lakes field hockey team's season opener against Lee on Monday afternoon.
The sophomore's performance helped the Seahawks to a 3-1 victory over the Lancers during the Under the Lights tournament Aug. 24 at Lee High School, and led to the forward setting a personal goal.
"Playing the way I did today, even though I was kind of tired in the second half, I felt really good about it," said Davis, whose three goals were a career high. "I think that personal goal of mine [is to] get in a lot better shape so I can play like I did in the first half the entire time."
Davis, who played for the South Lakes varsity as a freshman but did not start, said playing indoor field hockey in the offseason helped develop her skills. First­year head coach Allison Woron, who coached the Seahawks JV the last two seasons, said Davis wasn't considered a top scoring option entering the season.
"She did really well," Woron said. "She was really aggressive. She saw the field well, which helped, and she was not holding back at all, which is great. ... It was a surprise to see her play the way she did today, which is great."
Davis is part of a South Lakes team looking to improve on last season's performance, when the Seahawks finished 4-11-1 and received the No. 8 (lowest) seed in the Conference 6 tournament. South Lakes suffered a 7-0 season-ending loss to top-seed Fairfax in the opening round.
"This year, the players are able to play all the positions, which is great to see," Woron said. "We can really interchange anyone on the field and they're all a threat wherever you put them, which is great."
Juniors Jordan Majoros, Seretha McHugh and Olivia Miller are expected to be some of South Lakes' top offensive threats, Woron said.
South Lakes will host six­time defending Conference 6/Liberty District champion Fairfax at 7:30 p.m. on Monday, Aug. 31.
Whether South Lakes can put together a successful season remains to be seen, but the Seahawks got off to a strong start Monday.
"I feel a lot better, honestly," Davis said. "My confidence is a lot better, I know my skills are a lot better, but it feels good to actually have proof that the way I feel is justified."