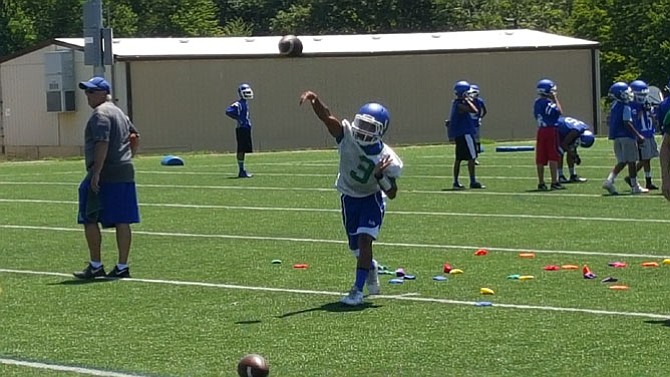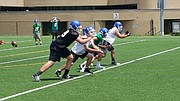 Trey Taylor's first season as head coach of the South Lakes football team ended with a 2-8 record, including a 49-0 loss to rival Herndon.
Entering his second campaign with the Seahawks, Taylor said the team's work in the weight room should help lead to better results in 2015.
"Improvement, [making the] playoffs and beating Herndon," Taylor said, "would probably be the big three on the list."
Few Seahawks have shown more improvement in the strength department than 6-foot-5, 310-pound rising junior lineman David Kroll, who was a two-way starter last season.
"When we got here last May (2014), he benched 140 and he squatted like 260 and he was 300 pounds," Taylor said. "I'm like, 'How do you get out of bed in the morning?' Now he's benching like 240, squatting high [300s], low [400s], he's power cleaning 245. I think what we're going to see with him is his strength is so far ahead of where it was last year. He's got the body size where he's hard to move, but he couldn't always get the push on the other guy. I think this year he's going to have a lot more push because of what he's done in the weight room in the offseason."
Kroll will play right tackle in South Lakes' spread option offense. Taylor said the Seahawks will huddle this year after failing to gain an advantage from running an up-tempo attack last season.
RUNNING THE OFFENSE will be rising sophomore quarterback Devin Miles, who led the freshman team to a 9-1 record in 2014. Taylor said, at this point, Miles' mental skills are ahead of his physical abilities.
"Devin's a great leader and he's going to always work to get better," Taylor said. "That's the thing: If he does make a mistake, then you know he's coming back the next play and he's doing everything he can to correct it. ... Once his body catches up to what his mind does, I think he's going to be one of the best in the area."
Miles already has the respect of his most experienced pass-catching threat.
"Devin's better than we've had, ever," rising senior Seth Ravenstahl said. "... He's the best quarterback that I've played with."
Ravenstahl is entering his third season as a member of the South Lakes varsity. He has played multiple positions, including lining up at quarterback as a sophomore. This year, he could play receiver, tight end or running back.
"He is definitely the most versatile of the guys out there," Taylor said. "... We don't worry about where we put him. If we need to put him in position x, y, z, whatever, I know he can play anywhere on the field."
South Lakes' fastest receiving threat is rising senior Eric Kirlew, who is entering his second varsity season.
"When it just comes to running a route on air, he's as good as any of them," Taylor said. "But he's gotten much better at the actual how-to-work-against-a-defense [part] of things."
Rising senior Anas Fain is also a receiving threat.
Rising sophomore Albert Mensah, and rising seniors Isaac Mensah and Kevin Damper will likely rotate at running back.
South Lakes' 4-2-5 defense will be led by Ravenstahl at linebacker, Kroll at tackle and Fain in the secondary.
SOUTH LAKES will scrimmage at Oakton on Friday, Aug. 21 and at home against Woodson on Aug. 27. The Seahawks will open the season on the road against Marshall at 7:30 p.m. on Friday, Sept. 4. The team's first Conference 6 contest will be on Sept. 18 at Yorktown.
South Lakes will host rival Herndon on Oct. 9.
"I think that the people coming to watch us play will have lower expectations due to our record last year," Fain said. "But as a team, we set our expectations pretty high this season."