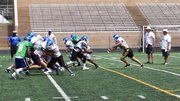 After head-coaching stops at Woodson and Robinson, Trey Taylor spent the 2013 season as defensive coordinator for the South County football team.
During practice, Taylor faced the challenge of trying to stop the Stallions' up-tempo offense. South County used little time between plays and averaged more than 40 points per game.
"Defending it in practice every day, it took us a lot of effort to figure out ways to deal with the speed at which the next play was being run," Taylor said. "When I was [at South County], I said if I'm ever running an offense again, I've got to incorporate that into what I'm doing because it is a bad thing to have to defend."
One year later, Taylor has returned to the head-coaching ranks and he intends to capitalize on what he learned with the Stallions.
Taylor enters his first season as head coach of the South Lakes football team. He takes over a program that finished 5-6 in 2013, including a first-round playoff loss to eventual state champion Centreville. The Seahawks return some promising skill-position players, but need to improve their overall team strength, Taylor said.
OFFENSIVELY, South Lakes will feature a no-huddle, spread attack intended to capitalize on tempo and athleticism.
"We are going to be moving as fast as we can possibly move."

--- South Lakes football coach Trey Taylor
"The two things we could tell early were we have some really good athletes --- as good as any of the kids in the county --- and we're also really weak compared to where I've been," Taylor said. "That's to me the biggest hurdle we face right now. We've got some huge linemen but, strength-wise, we're not where we want to be a year from now. We worked hard in the summer and we put some muscle mass on them, but we're still not where we want to be with that yet.
"That's my biggest concern right now, the physical side of things: how can we match up with the Stone Bridges and the Langleys?"
Taylor said he would like the South Lakes offense to include a power running game, but until team strength is at an adequate level, the Seahawks will focus on a fast-paced attack. While formations will differ from what the Stallions used --- South Lakes will operate primarily out of the shotgun while South County ran many plays from under center --- Taylor hopes the up-tempo approach will have a similar positive effect.
"We are going to be moving," Taylor said, "as fast as we can possibly move."
Senior quarterback Tavarius Lee returns for South Lakes. His top receiving threats include senior Darius Hawkins.
"Just in terms of athleticism," Taylor said, "I've never seen a kid jump as high as [Hawkins] can and go up and get a ball."
Hawkins said the Seahawks are improving under Taylor.
"It was a hard transition at first," Hawkins said about adjusting to a new coach, "but after a few days everybody understood what we were doing and things just started moving smoothly."
Kevin Damper and Eric Kirlew will also see time at receiver. Sam Arpee and Todd Turner will see time at running back.
Defensively, senior end Trey Montague is the leader of the front four.
"He's just a physical beast out there," Taylor said. "He's one of the strongest kids on the team."
Free safety Hawkins, defensive back/linebacker Turner, safety Isaac Mensah and lineman Josh Hairston will likely be defensive difference-makers for the Seahawks.
SOUTH LAKES opens the season at home against Madison at 7:30 p.m. on Friday, Aug. 29.
"We want to win a playoff game," Taylor said. "We don't want to just get to the playoffs, we want to get to the playoffs and win."