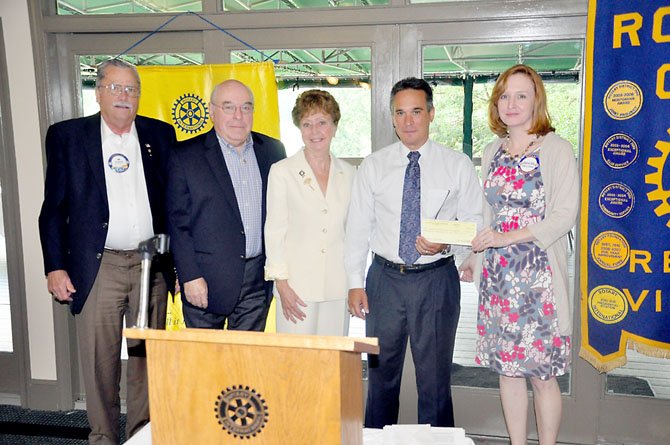 Reston — The Reston Rotary Club announced the funding of electronic field trips for Dogwood, Forest Edge, Hunters Woods, Lake Anne, Terraset and Fox Mill Elementary schools this year. The trips are hosted by Colonial Williamsburg, and are a series of live internet events and television broadcasts.
"These electronic field trips are about finding new ways to involve students in what we do. Route 95 isn't getting any less crowded," said Denise Kellogg, director at the Colonial Williamsburg foundation. "At Colonial Williamsburg, we're concerned with the same thing as Rotary Club, education of citizens. We have costumed interpreters to tell the story of all sorts of people: white, black, American Indian, slaves, free men, indentured servants, all telling the story of when Williamsburg was a political, cultural and educational center."
The trips consist of seven different video presentations. Kellogg said that several programs will point to the importance of an informed electorate, an issue that was as prevalent in 1800 as it is today.
"This certainly isn't the first election where issues like the economy and immigration have been big issues," Kellogg said. "Benjamin Franklin wrote about a housing bubble, and Thomas Jefferson about immigration. Knowing our history presents a path for our future."
This is the fourth year the Reston Rotary Club has sponsored trips for Reston area schools. Fox Mill Elementary was added as the sixth school this year.
Kellogg, a Reston native, said she believed the foundation and local schools have much in common.
"I'm a product of Reston schools, and I'll always remember the commitment of my teachers, not just to SOL scores, but to teaching young people to be confident, forward-thinking citizens," she said.
Jim and CarolAnn Babcock, Reston Rotary members, have helped coordinate the trips since Reston Rotary's involvement began.
"We're grateful for the efforts of Jim and CarolAnn to make sure we can continue these efforts," said Joe Lamoglia, president of the club.
Jane Dreyfuss, director of Cluster Eight schools, credited the Rotary Club for getting involved in their community.
"Rotary has been a wonderful collaborator with Reston schools and students," she said. "One of our goals as a county is about service to the community, and this addresses everything we're trying to achieve, helping children become better critical thinkers."