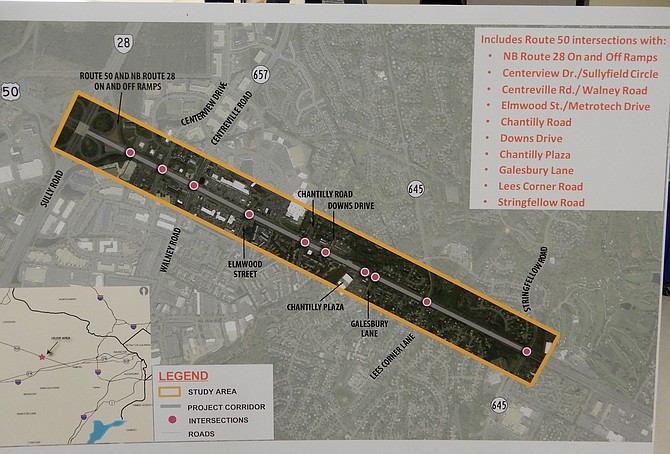 Geared toward making life easier for commuters, several transportation projects are in the works in Centreville and Chantilly. Below are details about some of them: 
Route 28 Widening 
Rush hour on Route 28 in Centreville is often a bumper-to-bumper affair. But a multimillion-dollar widening project is aimed at easing this gridlock. It's slated to be completed next year, and workers have been busy for a long time to make it happen. 
Route 28 is being widened from four lanes to six, for about 2.3 miles, between the bridge over Bull Run (south of Compton Road) and the Route 29 Interchange. Besides adding more through lanes to Route 28, the project will provide additional lanes on side streets to improve traffic flow. 
It will also improve intersection operations, upgrade existing traffic signals and improve bicycle and pedestrian crossings. In addition, new, 10-foot-wide, shared-use paths will be created on both sides of Route 28. 
A Fairfax County project, it's being done in cooperation with VDOT and the Northern Virginia Transportation Authority. Total cost estimate is nearly $79 million. Shirley Contracting Co. is the design-builder, and the county's Department of Transportation is doing the construction. 
The road-widening began last summer and is expected to reach substantial completion in fall 2023. Noise walls are currently being built, and that work will continue through the end of this year. Final construction of the entire road project is anticipated to be finished by late 2023/early 2024.
As construction at each intersection is finished, workers will focus on the side streets, tying in and facilitating new turn lanes to move traffic more smoothly along Route 28. Meanwhile, work will continue in the Route 28 median, in both directions.
Route 29 Widening 
During the afternoon rush hours, Route 29 between Buckley's Gate Drive and Union Mill Road is 1.5 miles of slow and tedious traffic. That's when residents are heading home to Centreville, or points west, trying to avoid I-66 west's gridlock at the same time.
There's also a bottleneck there during the morning rush, with long backups at the intersection of Clifton and Stringfellow roads. But VDOT has a plan to widen that stretch of Route 29 from four to six lanes.
The goal is to reduce congestion, while improving safety, operations and access. The project will also add and improve 10-foot-wide, shared-use paths along both sides of Route 29 to provide better bicycle and pedestrian access to the trails at the Fairfax County Parkway/West Ox Road Interchange. Planned, as well, are crosswalk improvements for pedestrians at major intersections, with modified signals to accommodate them.
There'll be intersection improvements at Centreville Farms and Union Mill roads, Clifton and Stringfellow Roads, Meadow Estates Drive and Hampton Forest Way, and Buckleys Gate and Summit drives. 
Estimated project cost is $85.9 million, with $19 million of that amount yet to be funded. Construction is anticipated to start late this year and take approximately two-and-a-half years to finish.
Route 50 Improvements 
Under normal traffic conditions, the two-mile segment of Route 50 between Route 28 and Stringfellow Road in Chantilly is clogged during the morning and evening rush. It also averages 71,000 vehicles a day and has a high number of crashes.
So VDOT's doing a STARS (Strategically Targeted Affordable Roadway Solutions) study to assess how to make this stretch of road function better and safer. According to VDOT engineer Andy Beacher, STARS is used to develop low-cost solutions to traffic problems. 
Toward that end, he said, "We studied all the intersections on Route 50 between Stringfellow and Route 28 and are making recommendations. However, there's no magic bullet for this corridor. It's very congested because of all the commercial development and commuters."
VDOT collected traffic and accident data on seven, signalized intersections in the study area and then examined both short-term solutions that would help immediately, plus mid-term solutions that would provide relief into 2030. The estimated cost range for these improvements is $8 million to $11 million.
"Right now, we have no funding [to build this project]," said Beacher. "Once we finish the study and choose alternatives, we'll have cost studies done and then work with Fairfax County to identify funding opportunities."
Compton Road Shared-Use Path 
Fairfax County and VDOT plan to build the Compton Road Shared-Use Path in Centreville. This 10-foot-wide trail will benefit local residents, connect the Bull Run Special Events Center and the Cub Run Trail System, and will also become part of the I-66 Trail Network.
The goal is to improve mobility and travel choices for pedestrians and bicyclists. The work will include a bridge over Cub Run to safely facilitate the shared-use path over the stream. It'll connect, as well, to the existing Bull Run Loop Trail, Sully Loop Trail and West County Trail, as well as to future trails.
Design approval is expected this fall, with right-of-way acquisition and utility relocation anticipated to begin in spring 2023. Start of construction is currently planned for summer 2024 and is expected to take approximately 20 months. Total project cost is estimated at $7.9 million.
Cub Run Bridge Rehab 
Work began in May to rehabilitate the northbound Route 29 bridge over Cub Run in Centreville to improve driver and pedestrian safety and extend the overall life of the bridge. It was built in 1954, and Route 29 carries an average of 26,000, combined northbound and southbound vehicles a day at Cub Run. So VDOT is giving this bridge some much-needed upgrades and repairs.
The improvements include removing and replacing the concrete deck and bridge rails, installing steel beams, rebuilding the concrete pedestals, replacing the bridge bearings, and repairing cracks on the underside of the bridge deck and in the pedestals supporting the bridge. Furthermore, a walkway with a barrier will be added and connected to the existing sidewalk just north of the bridge.
The work area runs from just east of White Post Road (near Gate Post Estates) to just west of Paddington Lane (near London Towne). Total project cost is an estimated $3.8 million, and work is expected to be completed in spring 2023.