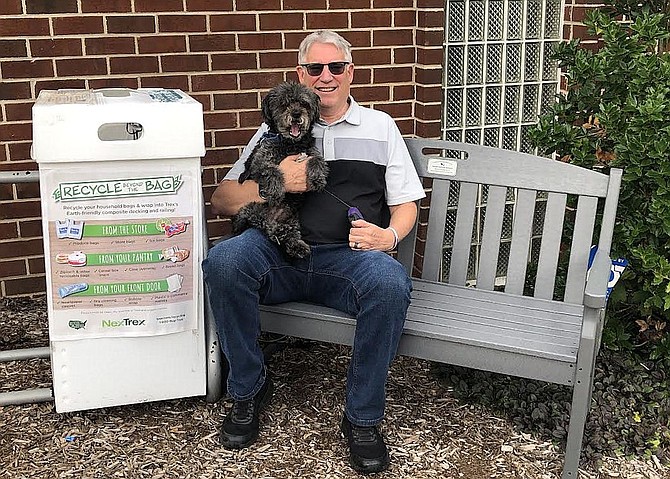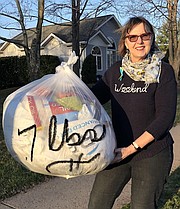 Thanks to the massive recycling efforts of Elise Forrester, her Chantilly Highlands neighbors and a DAR chapter, her community has a new bench. And by participating in the NexTrex Challenge, they kept nearly 2 tons of plastic from entering the waste stream. 
"I heard about it from a Daughters of the American Revolution chapter and learned that Trex had been doing this for 15 years," said Forrester. "You can't do it as an individual; you have to do it as an organization, school or community."
Since 1992, Trex Co. has used recycled plastic film and reclaimed wood to create composite decks. And its NexTrex program gives participants recycling bins, instructional videos, promotional materials and a list of plastic materials they may recycle. Then when Trex receives 500 pounds of this plastic, it turns it into a sturdy bench for the participants.
Forrester and her DAR chapter began their first, 6-month challenge last December and did so well, they completed it in just three months. "You have to collect an average of 86 pounds of plastic/month," she said. "We got plastic from home and from retail stores, such as grocery and department stores. Part of it is educating people not to place plastic in the trash, but to recycle it instead."
In February, Forrester started the NexTrex Challenge with her Chantilly Highlands Community Assn. "I advertised it in our newsletter, on Nextdoor and on our Facebook page," she said. "And I put a recycling bin at our community center and emptied it once a week. The neighborhood brought in about 60 pounds/month; and from the retail store where I work in Fair Oaks Mall, I was able to gather plastic bags from the stock room. They'd been unwrapped from incoming, store products that would normally be thrown away."
She said the residents were thrilled to participate. "Many people were already recycling plastic at the grocery store, but didn't know bubble wrap, film wrap from dry cleaning, case wrap around toilet paper, etc., can also be recycled," explained Forrester. "Then I'd collect it from the bin, weigh it and drop it off at Safeway, Food Lion, Harris Teeter and Giant grocery stores to be formed into 100-pound bales at the stores' distribution sites. Then Trex came and bought it from them."
Participating in the challenge is easy," she said. "You register your challenge with Trex and give them a start date. Then they send you one to three bins with a poster to place on them and to publicize on social media. And whenever I meet people in my neighborhood, I tell them about it."
During the Chantilly Highlands challenge, Forrester told Trex online how many pounds were collected each month. "When we got to 500 pounds, they told us to order our bench – which we did from a Web link," she said. "They delivered it to us, and we put it together with just nine screws; it was easy. It's a gray, 57-pound bench with a 15-year warranty."
"The people at Trex are fabulous to work with and can be flexible," continued Forrester. "If you're close to your goal at six months, they'll give you more time, if needed, so you'll succeed."
Chantilly Highlands finished its initial challenge early and, on Memorial Day weekend, it placed its first bench in front of its community center, to advertise the recycling accomplishment. It bears a plaque saying, "Conservation Initiative 2022 – Chantilly Highlands residents' NexTrex Challenge bench – plastic bag recycling."
The bench's permanent home will be at the neighborhood's tennis/pickleball court. And, added Forrester, "We've had a request in our horseshoe-shaped community to place a bench along the sidewalks where people walk, so they can rest along the way."
Meanwhile, Forrester's DAR chapter, which includes members from Centreville and Chantilly, has completed two challenges so far – enough for two benches. And since DAR Community Service Day is Oct. 11, the group will place those benches on that date outside a veterans' home or hospital in Virginia.
Forrester finished her third challenge in mid-August, meaning that she and her cohorts have now recycled 1,500 pounds of plastic. "I love that Trex is proactively involved in educating children and adults about recycling," she said. "I'm also happy about keeping all these items out of the landfills and waterways. And the public benefits, as well, by earning benches for places that need it – and I'm excited about that."
Besides, she said, it's an easy-to-do project. "And I've found that, when people know they're getting something in return, they're eager to do it," said Forrester. "I'm also working with two other nonprofits to earn more benches. I'm not going to stop; I'll do this as long as I can. I'm so proud of what Trex is doing; they continue to grow the program, and these challenges give people an incentive to recycle. I call myself the Bag-to-Bench Wench, and I hope to involve more organizations and schools in the program." 
For more information about the NexTrex Challenge, go to https://www.facebook.com/NexTrex-Bags-to-Bench-Challenge-111321954949352/