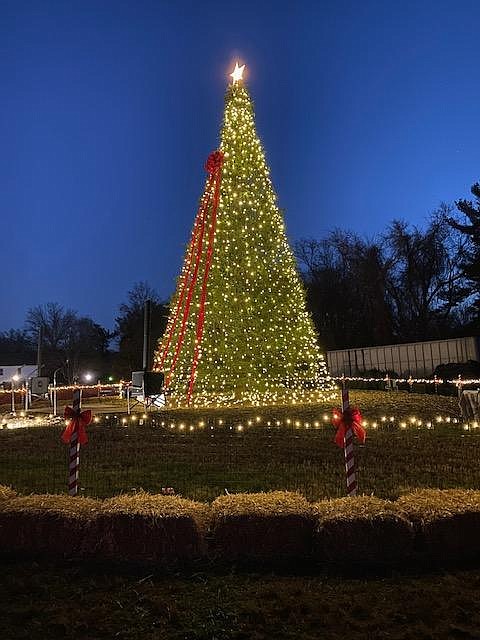 Holiday Entertainment 2022
Dec 1–23
"Snow Maiden." At Synetic Theater, 1800 S. Bell St, Arlington. In a frozen forest, a lonely boy builds a girl from snow. When she mysteriously comes to life, mischief, laughter, and enchantment abound. But what will happen when the ice begins to melt? Told through dazzling movement, dance, and acrobatics, Snow Maiden is a magical tale of hope, friendship and the transformative power of dreams. Based on the beloved folktale Snegurochka, Snow Maiden is a holiday treat for friends and fans of all ages.
Dec. 1-31
Home for the Holidays Art Show. At Arts Herndon, 750 Center Street, Herndon. Works by local artists on display the entire month of December. Visit www.artsherndon.org. Call 703-956-6590.
Dec. 2-17
The PARC at Tysons Holiday Market. Fridays and Saturdays. Celebrate the holiday season with local makers, crafters, and artisans from the Fairfax County area! Visit the holiday market at The PARC at Tysons on the first three Fridays and Saturdays of December for a pop-up shop of local artisans and small businesses offering holiday-inspired goods. The PARC will be transformed into a festive indoors and outdoors winter village, featuring a local holiday market and (free!) snowtastic activities for the whole family to enjoy! Food and beverages can be purchased onsite from local businesses as well. 
Dec. 2-11
Traveling Players presents "Commedia Christmas Carol." Tickets are now available for "Commedia Christmas Carol," which runs Fridays–Sundays, Dec. 2- Dec. 11 at Traveling Players Studio in Tysons Corner Center. Performed by Traveling Players middle and high school students, the play is a new imagining of Dickens' classic ghost story, a perfect holiday treat for the whole family. Visit https://www.travelingplayers.org/performances/
Dec. 2-18
Holiday Market. At 2704 Mount Vernon Ave., Alexandria. Del Ray Artisans 27th Annual Holiday Market offers unique handmade fine arts and crafts from local artists. Choose from wall art, pottery, photography, jewelry, glass, and much more! Plus 2023 wall calendars to support Del Ray Artisans nonprofit. Free admission. Market is the first three weekends in December (Dec 2-4, Dec 9-11, Dec 16-18). Different artists each weekend! Open Fridays 6-9 p.m., Saturdays & Sundays 11 a.m.-6 p.m. Details: delrayartisans.org/holiday-market
Dec. 2-11
Fairfax City Holiday Market. Fridays, Saturdays and Sundays. The Fairfax City Downtown Holiday Market will be open the first two weekends of December on Friday, Saturday and Sunday. Shop at the market of craft vendors as you enjoy Old Town Square in the heart of Historic Downtown Fairfax covered in holiday lights. The festival will include live holiday music, hot drinks, heated tents and gourmet treats, and more! 
Holidays at the Grange
Saturday/Dec. 10. 3 p.m. Holiday Afternoon Tea.
Sunday/Dec. 11. 4:30 p.m. Amadeus Presents Sounds of the Season.
Visit the website: www.gfgrange.org. 
Saturday/Dec. 10
Wintermarkt. 12-7 p.m. Bringing the Old World charm of Christmas in Europe to Herndon. Family-focused events, entertainment, and items for all members of the household. Downtown Herndon, 777 Lynn Street, Herndon. Visit Herndonwintermarkt.com or call 571-323-5300.
Saturday/Dec. 10
Christmas Around the World. 4-8 p.m. At Parkwood Baptist Church, 8726 Braddock Road, Annandale. "Christmas Around the World," celebrating Jesus' birth features concerts, costumed reenactors, live animals, biblical stories. Tickets at www.parkwood.org/registration beginning Nov. 28. Free parking. Visit the website: www.parkwood.org
Saturday/Dec. 10
Holiday Cheer. 7:30 p.m. at Unitarian Universalist Church of Arlington, 4444 Arlington Blvd., Arlington. Presented by the National Chamber Ensemble. This program brings the finest classical masterpieces and traditional holiday favorites together for a fun and memorable evening for the entire family. Festivities begin with a "Sleigh Ride" – Leroy Anderson's classic and "Chanukkah Festival". Soprano Nancy Peery Marriott (soprano), a long-time NCE favorite, will perform seasonal favorites and lead a Carol Sing-along that will have the entire audience joining in the spirit of the holidays. Tickets: https://www.nationalchamberensemble.org/tickets.htm 
Saturday/Dec. 10
Christmas Carol Sing-Along. 3-5 p.m. Historic Pleasant Grove is holding its annual Christmas Carol Sing, followed by cookies and hot cider, at our quaint historic site. Free community event at 8641 Lewinsville Road, McLean. Visit www.HistoricPleasantGrove.org.
Saturday/Dec. 10
Christmas Calamity Improv. 7-9:30 p.m. Come ring the bells! Improv with a seasonal twist! At Arts Herndon, 750 Center Street, Herndon. Visit artsherndon.org. Tickets $15. Call 703-956-6590.
Dec. 10-11
"The Nutcracker." 4 p.m. At Centreville High School, Centreville. Presented by the Mia Saunders School of Ballet. Tickets available at the door or online for Saturday and Sunday shows for $10 for children under 5 and $12 for ages 6 & up. Proceeds benefit CVHS Drama Scholarships and the Chesapeake Bay Foundation. More info at MiaSaundersBallet.com. 
Dec. 10-18
"The Perfect Christmas List." At Richard J. Ernst Theater, NOVA Annandale Campus. Encore Theatrical Arts Project (ETAP) presents a glamorous and dazzling holiday musical that features 30 performers, creative choreography, elaborate sets, stunning costumes, and 20 musical numbers. Show dates: Saturday, December 10th at 12 p.m., 4 p.m., 7:30 p.m.; Sunday, December 11th at 12 p.m., 4 p.m.; Friday, December 16th at 7:30 p.m.; Saturday, December 17th at 12 p.m., 4 p.m., 7:30 p.m.; Sunday, December 18th at 12 p.m., 4 p.m. Visit www.encore-tap.org
Sunday/Dec. 11
Toys for Tots Concert. 6 p.m. At Vienna Community Center, 120 Cherry Street, SE, Vienna. The Vienna Community Band is partnering with the Marine Toys for Tots Foundation to celebrate 75 years of giving! There's no charge for admission. They ask you to bring a new unwrapped toy to the concert. All collected toys are distributed to children in Fairfax County. Visit https://www.viennacommunityband.org/ 
Sunday/Dec. 11
Celtic Holiday Concert. 4-5 p.m. At St. Andrew's Episcopal Church, 6509 Sydenstricker Road, Burke. Join in this annual concert by Karen Ashbrook
and Friends. The popular duo (Karen Ashbrook & Paul Oorts) will be
joined by cellist Sophie Chang featuring carols and music from Belgium,
France, England and Germany. Paul Oorts, Belgian multi-instrumentalist,
will share delightful childhood Flemish traditions of the season. The
shimmering strings of the hammered dulcimer, harp guitar, cello, and the
reeds of the accordion, ring in the holiday time of year! Funds
collected from this concert will be split between ECHO and the FACETS
Hot Meals program. Website: www.standrews.net
Sunday/Dec. 11
Brunch with Santa. At The Watermark Hotel, 1825 Capital One Drive South in Tysons Corner. Enjoy a bountiful and delicious brunch buffet with the season's most popular celebrity, Santa. Guests are invited to enjoy a jolly brunch including signature favorites like scrambled eggs, bacon, breakfast potatoes, sausage, and other delightful bites. During brunch, guests are invited to share their holiday wishes with Santa, take a photo with him, and enjoy the hotel's festive holiday decor. Seatings are available at 11:30 a.m., 12:00 p.m., 1:15 p.m., and 1:45 p.m. and pricing is $49 for Adults, $29 for children age 6-12. Children age 5 and under are complimentary.
Tuesday/Dec. 13 
Holiday Concert Series. 8 p.m. Presented by Encore Creativity for older Adults. At George Washington Masonic Memorial, Alexandria. Encore's local choral ensembles – Encore Chorales, Encore ROCKS and Sentimental Journey Singers - will perform crowd-pleasing holiday songs with live musical accompaniment in a variety of venues in Virginia. Visit the website: encorecreativity.org/events/category/performance
Thursday/Dec. 15
When Christmas Hurts. 7-8 p.m. At St. John's Lutheran Church, 5952 Franconia Road, Alexandria. This is a service designed for all who may be experiencing this holiday season with hurt, grief, or sadness. All are welcome to attend in-person or virtually on Facebook Live. Visit the website: www.sjlc.com
Friday/Dec. 16
Appalachian Bluegrass Christmas. 7-9:30 p.m. Music and readings with Shoestring Theatre, Arts Herndon, 750 Center Street, Herndon. Visit artsherndon.org. Tickets $10. Call 703-956-6590.
Saturday/Dec. 17
Open for the Arts – Holiday Open House. 10 a.m.-6 p.m. Children's activities with A Thousand Stories, Herndon Books Arts Herndon, 750 Center Street, Herndon. Visit artsherndon.org. Call 703-956-6590.
Saturday/Dec. 17
Wreaths Across America. Noon. Volunteer wreath laying ceremony honoring veterans. At Chestnut Grove Cemetery, 831 Dranesville Road, Herndon. Visit herndonwomansclub.org. Call 703-435-3480 
Dec. 17-18
"The Nutcracker." 4 p.m. At GMU Center for the Arts, Fairfax. Presented by Fairfax Symphony Orchestra and Fairfax Ballet. The FSO production of Tchaikovsky's The Nutcracker is unique in the Washington, D.C. region to feature live, musical accompaniment by a full orchestra, together with dancers on stage.
Sunday/Dec. 18
Home for the Holidays with the Treble Clefs. 5-7 p.m. Join the Treble Clefs and Friends. Includes refreshments and a special visitor. At Arts Herndon, 750 Center Street, Herndon. Visit artsherndon.org or call 703-956-6590.
Saturday/Dec. 31
New Year's Eve Golf Tournament.
 10 a.m. Shotgun start. Annual four-person scramble. Entry fee includes green fee, cart fee, range balls and prizes. Entry deadline December 26. At Herndon Centennial Golf Course, 909 Ferndale Avenue, Herndon. Cost is $80 per player. Call 703-471-5769 or visit herndongolf.com.