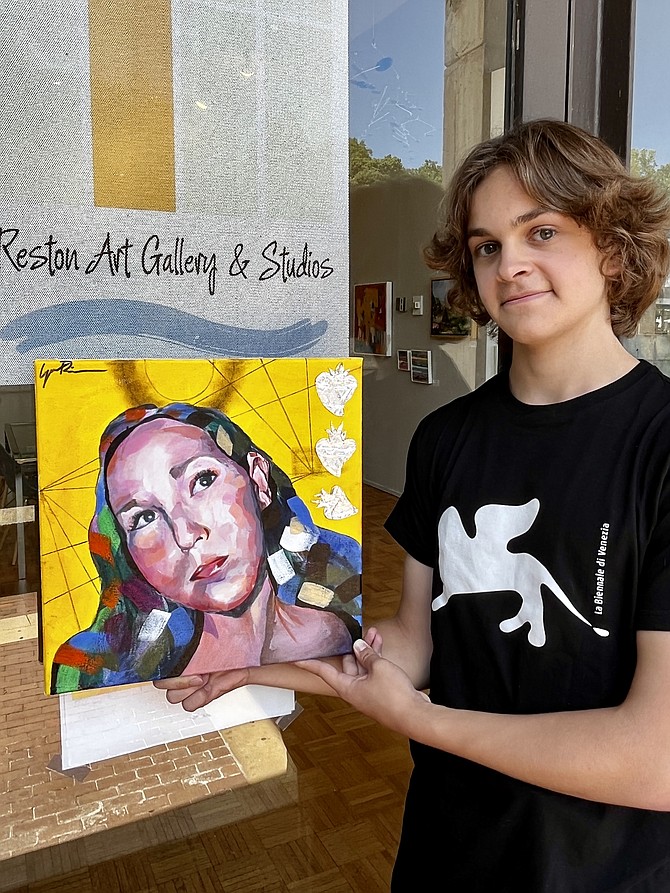 Cyrus Rivers of Reston, a Thomas Jefferson School for Science and Technology senior, is hosting a one-day art exhibition and auction, "Art for Recovery," at Reston Art Gallery and Studios (RAGS). It features juried works created and contributed by Northern Virginia high school artists. The juried artwork speaks to the exhibit's theme, "Humanizing Addiction." It is meant to meet a person with a substance abuse disorder where they are and without judgment.
In his artist entry form, Cyrus told how the stigma and dehumanization of addiction keep those with substance abuse disorders misunderstood, underdiagnosed, and undertreated. The result is "tremendous suffering and death." "I've witnessed this first hand through the loss of multiple family members in the past few years," Cyrus said.
Funds from the show and auction will benefit the non-profit organization Recovery Program Solutions of Virginia. It offers Northern Virginia adults and seniors struggling with addiction a safe place to receive support and services. 
On Friday, Aug. 19, Cyrus talked about the show on the steps of RAGS, where the auction will take place. It is lakeside at 11400 Washington Plaza West, Reston, at the orange "ART" sign. For a brief moment, Cyrus struggled to explain why he had organized the event. According to Cyrus, "it is easy to think of a person with an addiction as a product of their judgments made throughout their life." 
Cyrus described how families exhaust their financial resources to assist those struggling with addiction. Families sap their mental strength, and it becomes easier to blame the person who uses substances for their medical condition and difficulties.
"What I'm trying to show here is that they deserve to be seen how everybody else is seen. They deserve to be seen as somebody who struggles with a sickness (a brain disease that requires medical treatment). That is the big one. They shouldn't be ignored for their issues," Cyrus said.
Pat Macintyre, owner and director of RAGS, juried the submitted entries selected for display. She will judge the works and award prizes. "Cyrus has proven himself to be an outstanding member of our community," Macintyre said.
Throughout the interview, Cyrus held a graphic painting of a woman. The colors boldly burst forth from the canvas. Later, when asked who it was, Cyrus said, "My aunt. She has passed. It was alcoholic liver cirrhosis."