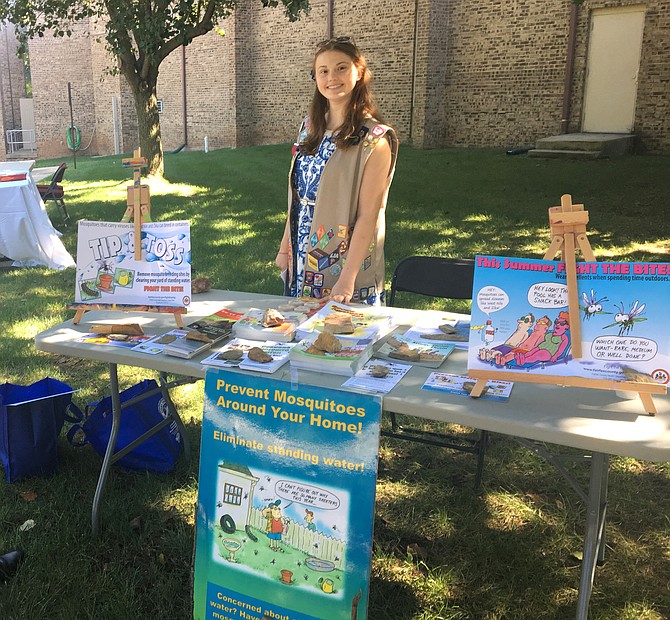 There is a senior Girl Scout who is working to help protect Reston from mosquito bites. As a part of her Girl Scout Gold Award, Julia Cartwright, 16, of Reston, 10th grader at Herndon High, has been giving mosquito vector control presentations in Reston and Northern Virginia on how to reduce mosquito populations and avoid mosquito bites. She is also erecting blue bird houses at select locations in Reston. Blue birds are voracious consumers of insects to include mosquitos. Julia is available to give presentations to your neighborhoods. She also has mosquito prevention brochures as well as mosquito dunks to put in any standing water you have on your property that you can't remove yourself.
Our weather will be warming up soon and with it will come the itchy and potentially dangerous bite of mosquitoes. But what can you do about it? The answer is a lot! Here is some important information you can use to help Reston reduce the population of mosquitoes around our homes and to reduce or eliminate mosquito bites.
The mosquito that is numerous in Reston is the Asian Tiger mosquito. It is a very small mosquito that has white bands on its legs. Like all mosquitoes, Asian tiger mosquitoes are dangerous. A fast moving, very aggressive biter, this type of mosquito comes out during the daytime to feed and has the ability to carry and transmit many dangerous pathogens including the West Nile virus, the Chikungunya virus, encephalomyelitis, dengue fever, yellow fever and dog heartworm.
You can help prevent an infestation of mosquitoes by doing the following.
Make sure there is no standing water on or around your property. After a rain, make sure there is no container with standing water in it. Mosquitoes can breed in containers as small as a bottle cap.

Cover up your lower legs and feet. Although the Asian Tiger will bite anywhere on your body, it prefers your lower legs and feet. Did you know that if a mosquito bites you, you have provided the blood meal the mosquito needs to produce 300 more mosquitos.

Use mosquito repellents that have DEET in them.
You can call Julia for mosquito prevention presentations, brochures or mosquito dunks at 571 217 4403 or acartwr501@comcast.net.