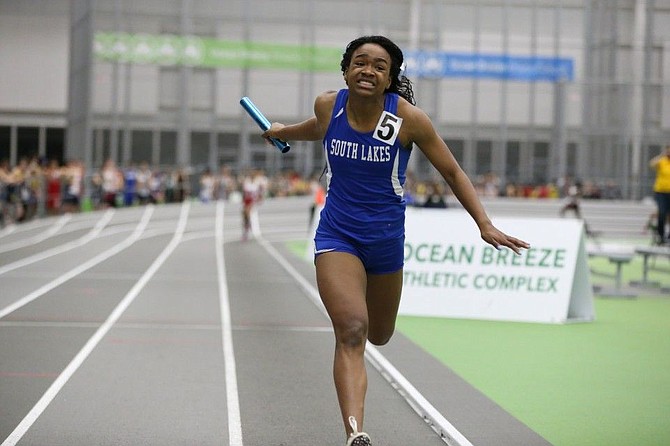 The South Lakes High School indoor track team capped a busy winter break meet schedule by setting four school records and qualifying several athletes for the postseason.
Competing in the Ocean Breeze Freedom Games Jan. 4, 2020 in Staten Island, N.Y., the Seahawks set a meet record and broke five school records. Seniors Hannah Waller, Mary Gregory, junior Juviannadean Mullings and sophomore Jillian Howard ran a 6A State Championship Meet qualifying time of 1:42.23 in the preliminaries of the 4x200 meter relay. They topped that in the finals by winning the event in 1:40.00, which eclipsed the meet record as well as the school record and is the fastest time run in the event this year. The school record of 1:41.49 was set last season by Waller, Gregory, Mullings and Rhema Konadu.
Though they did not win their event, the boys 4x200 meter relay team also qualified for the state meet and broke the school record. Seniors Jackson Cooley, Branden Tirona and sophomores Tyler Benett and Joshua Gregory ran a 1:32.86 in the preliminaries. In the final, Cooley, Benett, Gregory and junior Malcolm Coker finished fourth with a 1:32.02, breaking the school record of 1:32.18 set by Timiebi Ogobri, Eric Kirlew, Anas Fain and Skander Ballard during the 2015-2016 season.
State meet qualifying and school records were also set in the field events at the Ocean Breeze Track and Field Complex.
Senior Caleb Miller won the shot put with a throw of 52-01.00, breaking the school record of 51-07.00 set by Ronak Cuthill during the 2017-2018 season. Miller also finished 13th in the high jump with a Liberty District championship qualifying height of 5-08.00.
Junior Amelia DiBiase finished second in the pole vault with a 10-00.00 breaking her own school record - again. She opened the season with a winning vault of 9-00.00 at the David Cannon Memorial Polar Bear Invitational December 7 at James Robinson Secondary School in Fairfax, breaking the school record of 8-09.00. Then at the Liberty Christmas Invitational December 21 at Liberty University in Lynchburg, Va., she was fourth but her clearance of 9-06.00 broke her own record. She tied that mark at the =PR= Holiday Invitational Dec. 28 at the Prince George's Sports and Learning Complex in Landover, Md. in finishing second. In every meet she has competed in this season, she has either tied or broken the school record.