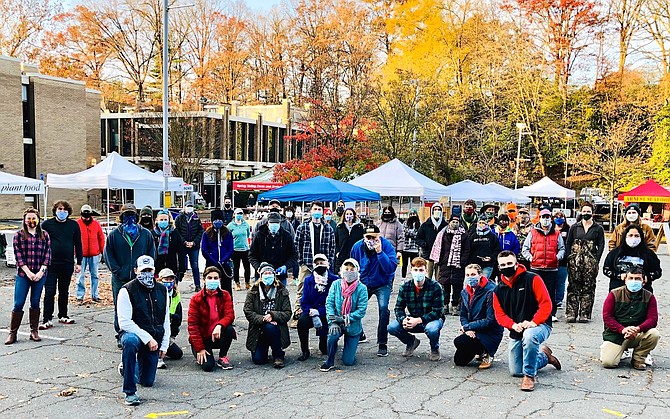 Back in March and April as the Covid 19 pandemic peaked, we were warned that it was unlikely the Reston Farmers Market could be opened for the 2020 season as scheduled (April 25), if at all.
Fairfax County, sponsor of the Reston Farmers Market, was reeling from its recent decision to close County parks to the public, only to have the order pretty much ignored. Officials feared the virus would spread as a result. Furthermore, I was told that if the County let farmers markets open people would simply violate the rules as they had in the parks, leading to even more infections, with attendant political fallout. I pointed out that the farmers market, unlike parks, would be in a small area with onsite management. I also noted that the market would, in fact, be safer than grocery stores, permitted by Virginia's Covid 19 emergency edict, by virtue of being held outside and not allowing the handling of food products. It took several weeks of back and forth conversations with the County before they relented and let the Market open under a rigorous set of precautions widely publicized before opening: including: required social distancing, two controlled entrances to the market, handling food prohibited, face coverings strongly recommended, no pets, etc. Shoppers were to keep moving, no gathering. Thus, we could not allow music, master gardeners, or any other socializing! But on May 9 we opened. Community support for opening was a major factor. County staff often mentioned the phone calls and messages they were getting lobbying to open the Reston Farmers Market. That support continued all season long!
After seven months, I am pleased and proud to announce the Market is completing a successful 2020 season Saturday, Dec. 5. It wasn't easy—while we usually only need two to run the market, it took six to manage it under Covid rules! We could not have done it without the amazing volunteers who stepped up to help: Anne Strange, Susan Ellis, Melodie Stehling, Brian Pittack, and Tracey Long. Besides market setup and take down (which included taping the entire perimeter!), the team controlled entry; encouraged shoppers to wear masks; monitored social distancing; marked spacing for tents and directional arrows; and handled a bazillion questions. As a result, the Reston Farmers Market earned the reputation of being the safe place to shop. Thus, we had remarkable attendance. On opening day, a modest 843 shoppers ventured out to check us out. After that, we averaged more than 1,800 shoppers each Saturday, with a high of 2,101 in July. With only one market to go, the Market has hosted nearly 62,000 shoppers in 2020, the year of the Covid-19 pandemic. And, they said it could not be done!
Condo election update: A local condo association in my area recently held an election for its governing board. It rivalled the Nov.3 US Presidential election for contentiousness. In fact, as I write this, the outcome is still in dispute. 0.04% of square footage vote was the difference between two candidates for a contested commercial seat. (Note: 14 of 17 commercial owners voted for the candidate, but they own .04% less unit square footage.). Over a month after the voting, neither the reform coalition candidate nor the incumbent is conceding. Sound familiar? The seat is the swing vote for a Board majority between the governing reform coalition and the old guard seeking a return to power. During its one-year leadership, the reformers contracted a major forensic audit by Ernst & Young which revealed financial management procedure and control problems as well as apparent instances of self-dealing under the prior board. At issue is whether or not the problems cited in the audit will be addressed as recommended… or not!