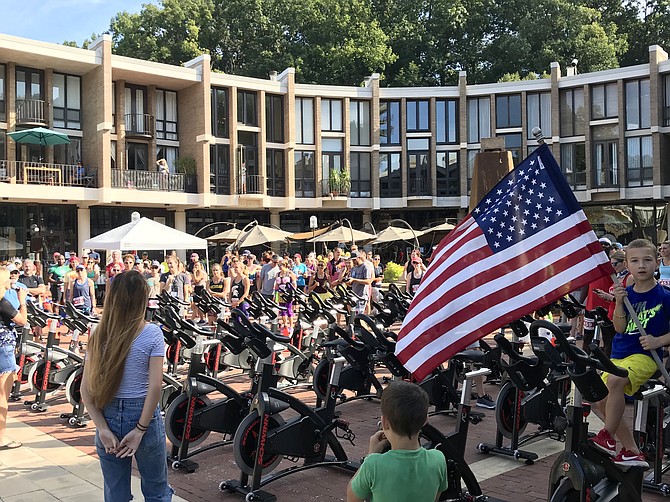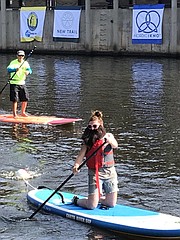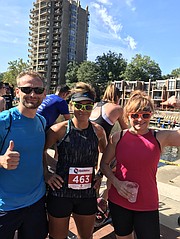 Inspired by the crowd vibe and pure fun of the Cardboard Boat Regatta held the last three years at Lake Anne in Reston, on Sunday, Sept. 15, 188 athletes, 60 volunteers and hundreds of spectators made history in the sport of triathlon. CORE Foundation, Surf Reston, New Trail Cycling and Lake Anne Brew House turned the tables on a regular triathlon. Organizers tossed out the traditional swim and substituted a stand-up paddle board (SUP) experience, and hosted the first-of-its-kind, multi-sport event, The Lake Anne SUP Triathlon in Reston.
CORE Foundation Executive Director and USAT Race Director, Taralyn Kohler said that the event had been sold out for weeks. "Our hope is that in ten years, attendees look back on this inaugural event and say that they remember when triathlon history was made right here in Reston," said Kohler.
Liz Kamp, owner of New Trail Cycling, said, "We are thrilled on how quickly this came together with the help of volunteers. We couldn't ask for better collaboration."
Sanctioned as a "non-traditional event," by USA Triathlon according to Kohler, the Lake Anne SUP Tri consisted of a 1-mile paddle board on Lake Anne with boards provided, 7-mile ride on a New Trail Cycling stationary bike set up on the plaza and 5k, 2-lap run around Lake Anne on the Reston Pathway. Transition between events was not timed.
Michael Katz, representing Earth River SUP, said, "We're delighted to be part of this event. It's great to see all these people on paddle boards."
Athletes chose to compete solo or as part of a 3-person team. For Kathy Park of Fairfax, the relay aspect interested her most. "I'm here to spend quality time with my friend in a healthy fit exercise for life." Beside her stood relay members Rosie Farello of Chantilly and Carrie Talbot of Reston. Members of the CrossFit community, Marissa Anderson, Jeann Judy and Axel Reseio of Herndon agreed relay was best.
"It's a good thing for our team to do together," said Reseio.
Organizers designed the event to introduce multi-sport to participants while having fun doing it.
As for awards, organizers offered six age groups, plus relay awards. Crazy Fun Special Awards such as the Most Creative Outfit, Most Memorable Finish and the Man/Woman Overboard Award for the most time spent in the water made the day extra special. With the crowd laughing around her, athlete Meagan Thompson, executive chef, Lake Anne Coffee House and Wine Bar took her paddle board out on Lake Anne dressed in costume as Tom Hanks playing Chuck Nolan in "Cast Away." Tied to the end of her paddle board, Wilson the volleyball, followed Thompson.
Proceeds benefited CORE Foundation, a Reston-based 501 (c) 3 charity. Earth River SUP, BARE Snacks, Reston Association, The Jackson Clinics, Lake Anne of Reston Condominium Association, Glory Days, Realtor Joe Pushak, Glen Bralley-McClean Mortgage, Buchanan Wealth Management and Athleta of Reston sponsored the inaugural event.
Top Winners
1st Place Team #468: CORE Foundation
1st Place Male #329: Len Forkas
1st Place Female #374: Heather Schaffer