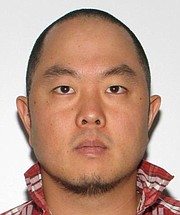 A beloved father, South Lakes High School teacher and coach Simon H. Chang, 39, of Ashburn died after a motorcycle crash. Fairfax County Police Department reported detectives from their Crash Reconstruction Unit were investigating after Chang was found dead near a motorcycle, Thursday, Aug. 22. Chang was reported missing by his family on Aug. 16, when he did not show up for his job at South Lakes High School in Reston.
According to the preliminary report, detectives believe Chang was riding a motorcycle from Lee Highway to northbound Fairfax County Parkway when the motorcycle ran off the right shoulder of the ramp and came to rest in a wooded area. Detectives have found no indication that any other vehicles were involved and have not determined if speed or alcohol were factors.
Kim Retzer, Principal of South Lakes High School, said in a statement: "Mr. Chang was a beloved member of the Seahawk family. He will be remembered for his positivity and dedication to our staff and students. He will be greatly missed. We have been in contact with Mr. Chang's family to offer our condolences and support."
No memorial service is planned at the request of the family, according to Greg Lee. "Please continue to pray for his family and those mourning the loss of our dear brother," wrote Lee, the organizer for a fundraiser to support Chang's son Benaiah. According to Lee, all proceeds to Chang's GoFundMe account will go to Benaiah's mother and be used directly "for the benefit of Benaiah's healthy growth and development throughout his childhood and into adulthood."
As of Sept. 2, nearly $17,000 was raised of the $10,000 goal. Condolences continued to pour in describing a man who served God with passion, possessed a contagious laugh and positively influenced youth as a teacher and basketball coach at South Lakes High School.
Condolences
Condolences via www.gofundme.com/f/in-memory-of-simon-chang-for-his-son-benaiah
Grace Yu-Bray: "Simon and I went to VT together... And I remember him being the most loud, spunky, crazy, hilarious guy in those days! He was a guy super passionate and on fire for the Lord who encouraged me and everyone around him to get out of our shell — be free."
Tanya Moore: "Mr. Chang had a significant impact on both of my children. He was a knowledgeable, caring educator."
Teresa Talebian: "He made others laugh and appreciated all the good and positive there was in life."
Chelsea Eddy: "Simon was so full of life and added so much positivity to SLHS. Thank you for taking the time to listen, for all the laughs and for always allowing me into your room with open arms."
Carmen Rioux-bailey: "Simon was a thoughtful student, a teacher who cared, and most importantly, a proud father who loved his son."