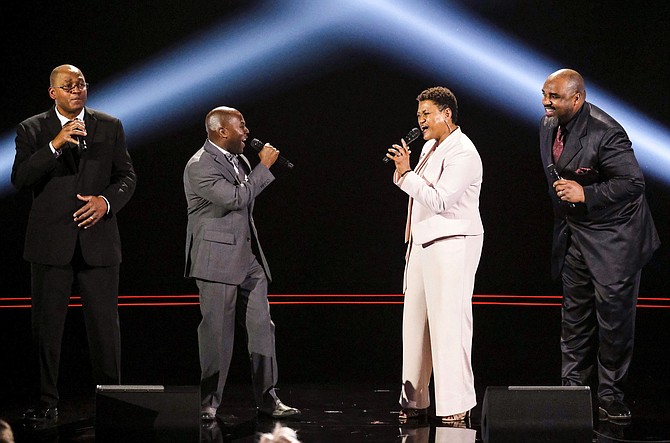 The Grand Marshal of a parade is the ceremonial leader, an honorary role usually designated to politicians, athletes, civic leaders and such. Organizers of the 2019 Reston Holiday Parade looked beyond conventional. They chose two individuals who not only showed exceptional skills in the arts as vocalists but also would lay down their lives for our country.
The Grand Marshals of the 2019 Reston Holiday Parade are a United States Armed Forces active duty service member and a veteran who coincidentally ranked 5th place as artists in Season 14 of America's Got Talent. They are the Center for Military Music Opportunities (CAMMO's) "Voices of Service," vocalists, Sergeant Major Christal Rheams AD of Woodbridge, and Master Sergeant Caleb Green, United States Army Retired of Woodbridge. They represent CAMMO's other two Voices of Service artists, Sergeant First Class Jason L. Hanna US Army AD of Woodbridge and Staff Sergeant Ron D. Henry US Army Retired of Williamsburg. AD represents active duty.
Q & A
Q: "Voices of Service"- three small words with much meaning. Please tell me more.
A: Rheams -We are four dynamic voices on a mission to serve those who remain silent. To serve those whose voices were silenced on this side.
A: Green - Voices of Service members personify a commitment to excellence and the power of connection musically to those who need a coping tool on their recovery journey. It's even more complex, yet simply put; we seek to empower others through the healing power of music.
Q: How did you become involved with CAMMO; what specific moment tipped the pendulum, and you said, "Yes."
A: Rheams - It was a conversation with Cathie Lechareas; her commitment to veterans sold me day one.
A: Green - I became involved with CAMMO through Christal. She challenged and encouraged me to use my talents to help others heal. I found that interesting because I'm very guarded with my time. I have a huge family, and they require my best energy, not my leftovers. So, my younger children helped me tremendously as I started out, and it allowed me to share the gift of service with them in ways I'd not been able to previously.
Q: Tap into the importance of music therapy as healing. Do you have a professional/personal reference? Feedback from others? Consideration of music therapy in tandem with other treatments?
A: Rheams - During the show, we received so many calls and emails from Service members, families and first responders. Each one unique and memorable in their own right. I specifically remember a note from a Soldier who said our performance pulled him from the edge. He thought of his family and decided that suicide was not an option.
A: Green - We've done extensive work through performances, songwriting, counseling, mentoring, coaching, contributing to others and their platforms, with individuals, groups and audiences. It's a way to give back and pay it forward from what we've been given.
We have so many stories, but the telecast of America's Got Talent gave some poignant revelations. A person did not go through with the unthinkable because they heard us and knew we were genuine in our mission. It helped them to realize there is more than one way to cope, and it's ok not to be ok. Let's get some help. Another was finally able to share with their spouse that they had unresolved emotional challenges and needed some help.
Q: Is there a need and response to music therapy locally, in the Northern Virginia region, for active military and veterans?
A: Rheams - There is a need everywhere, NOVA and worldwide. Wherever people suffer from trauma, music can help.
A: Green - I am challenged to say unique to Northern Virginia. I'd propose it's a challenge unique to any person who is on a recovery journey. We attempt to help them become resilient.
Q: Where might, or would you be if not doing this?
A: Rheams - Probably still be where I am. Destiny is hard to run from. Somehow I felt I was always meant to be right where I am.
A: Green - I'd continue my work with CAMMO, the PW Chamber of Commerce on the Veterans and non-profit committees, private music performances, and also my career as a Business Solutions Specialist with LegalShield. I actually still do all of these things.
Q: Other thoughts, concerns or challenges? In other words, many times, there is something one wants to say deep from the heart, but holds back - do you?
A: Green - I'm not concerned about holding back; I'm concerned about being sensitive to the needs of those I can help. It's a matter of being aware and listening. If the person or group isn't speaking, we facilitate communication to break the ice.
Q: Where can people reach out?
A: Rheams - CAMMOmusic.org
A: Green - CAMMOmusic.org
Attached to Green's photo was a framed image of words attributed to CAMMO: "Music speaks what cannot be expressed, soothes the mind and gives it rest, heals the heart and makes it whole, flows from heaven to the soul."
According to CAMMO, there are two prongs to its mission: "To create music-based therapeutic programming and outlets for service members, veterans and family members; To train and educate them in music career opportunities as well as help with artist development. This organization is on target with its mission because it believes in the power of music to restore, inspire, and open doors to our veterans and service members. With that said, the financial contributions of our donors have been a tremendous help, and we ask for your continued support as the services rendered by CAMMO expand. If you've never given, we ask that you consider the life-changing effects your gift will have on a U.S. veteran or service member suffering from PTSD or TBI." To donate, visit CAMMOmusic.org/donate. Tax ID 38-3801781.