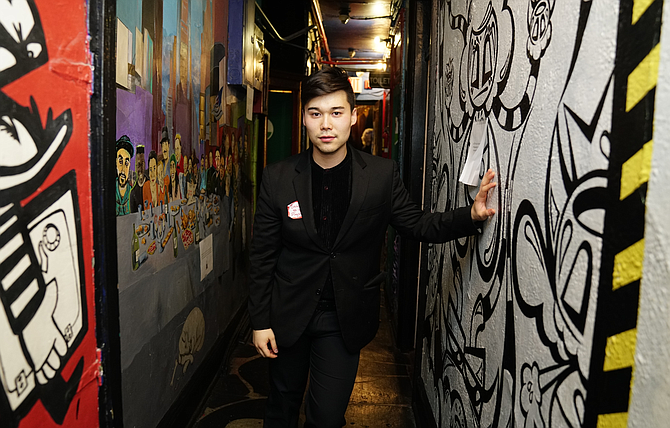 Fairfax's Hub Theatre is introducing a new playwright to area audience, Sam Hamashima, who wrote "American Spies and Other Homegrown Fables."
Hub's Artistic Director Matt Bassett described "American Spies and Other Homegrown Fables" as about the Ishii family, a Japanese-American family. "The piece follows them, and their centuries-old guardians as they learn of the bombing of Pearl Harbor. With that they have to choose between family traditions and survival.
"This play uses surrealism to explore deeply personal themes of family, tradition, individual identity all grounded in an important topic of immigration and its role in the American identity," added Bassett.
"Some of the situations I put my characters through in 'American Spies' were challenging to write. These characters are special to me, they represent some of my family members and some of my own ideals and feelings," said playwright Hamashima. His own family had been confined in horse stalls at Santa Anita Race Track during the early days of WWII. "I hope that my show encourages discussion around Japanese American Imprisonment to raise awareness."
For director Kathryn Chase Byer the play is "so timely … at its heart, this is a play about the love and timelessness of the family bond."
Dylan Arredondo portrays Tamihei the patriarch of the Ishii family and a leader in the local Japanese farming community. "He's a father first; his primary goal is protecting his family, but sometimes at a steep cost; assimilation could mean safety. Surprisingly, he may be the force onstage that is most actively ensuring cultural erasure."
Arredondo noted that "my great-grandparents and their children were Japanese-American farmers sent to U.S. internment camps during World War II."
Toni Rae Salmi portrays Natsuko, a first generation immigrant. "Natsuko has one foot in American culture and one foot in Japanese culture. After making a great effort to fit in as an American, Natsuko is faced with the horrible situation of having to give up what represents family to her; not because of anything that she's done but because of who she looks like."

Character Paper Crane, the Spirit of Wisdom, is portrayed by Rae Venna. "Her role is to protect the family and keep traditions going," said Venna. Inviting audiences to the production, Venna added that "'American Spies' is relevant to events happening in our world today…I believe that audiences of all ages will gain something from this story."
Where and When
Hub Theatre presents "American Spies and Other Homegrown Fables" at NextStop Theatre, 269 Sunset Park Drive, Herndon. Performances July 12 to Aug. 4, 2019. Friday at 8 p.m., Saturday at 2 p.m. and 8 p.m. and Sunday at 2 p.m. Tickets at the door on the day of the performance and online at www.thehubtheatre.org.