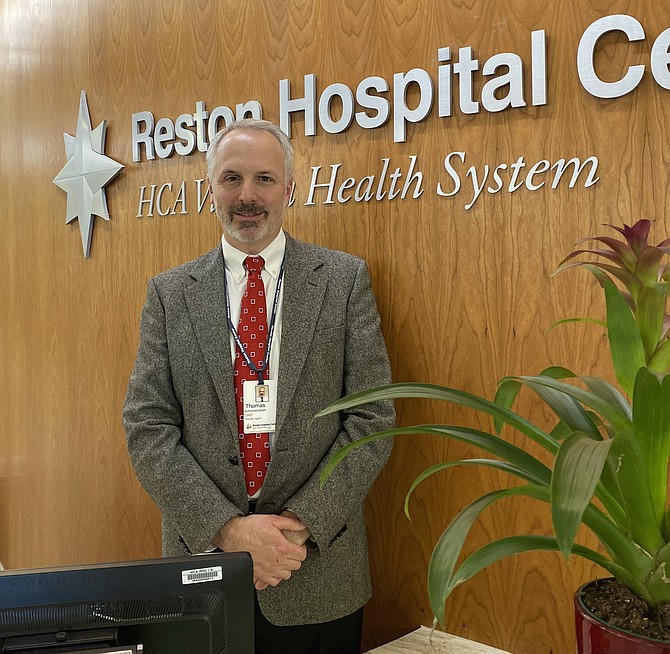 Dr. Thomas Taghon is the new Chief Medical Officer at Reston Hospital Center, HCA Healthcare, as of Dec. 2. Dr. Taghon comes to Reston from his previous role as Associate Chief Medical Officer at Dayton Children's Hospital in Ohio and as a Board Certified Pediatric Anesthesiologist. Ending his second week at Reston Hospital Center, Dr. Taghon shares his views on a variety of topics, including things that might surprise people about him.
Q&A with Dr. Taghon

Q: What leadership skills do you bring to Reston Hospital Center, not only to doctors, but department managers, top executives, and patients?
A: I have been involved in health care nearly my entire working life. I started as an Emergency Room Technician in college and earned my undergraduate degree in Pharmacy. I worked as a hospital pharmacist for a couple of years before medical school and then became an anesthesiologist. I have been working in hospital administration for several years now, so I have a pretty good understanding of how hospitals and doctors function. That said, one of the most enjoyable parts of my job is learning new aspects of medicine, and helping our doctors and nurses deliver this care.

Q: Discuss your primary role as Chief Medical Officer at Reston Hospital Center, HCA Healthcare, and position as a liaison between doctors and hospital executives.
A: As Chief Medical Officer, my most important job is to help our outstanding medical staff deliver safe, high-quality care for each patient, every time. I do this by partnering with the medical staff and hospital executives to help ensure that we have the right processes in place, and the best doctors delivering care.
Q: In what areas or instances might the Chief Medical Officer need to exercise medical judgment?
A: Every day brings a new challenge! For any given patient, the Chief Medical Officer may be called upon to help the medical and executive staff understand the best path forward so that we can deliver the best care possible. This requires medical knowledge and a willingness to do the necessary research to gain new knowledge.
Q: How is training and experience in management duties and so-called "business sense" relevant to the position?
A: Unfortunately, most doctors do not have a lot of training in business and management during medical school. Realizing that this is important for Chief Medical Officer work, I returned to school a few years ago to earn a master's degree in healthcare administration. Having this knowledge helps me bridge the gap between hospital administrators and doctors and help them work together to solve problems and deliver safe, high-quality care.
Q: Stress is a constant influence in lives. How do you maximize the positive stress and minimize negative stress in the role of Chief Medical Officer at Reston Hospital Center?
A: The practice of medicine can be extremely stressful, and I worry about the health of physicians today. Physician wellness is a huge issue, and I think that one way to combat stress and burnout is to remain connected to our core mission, which is caring for patients and improving their lives. Doctors today have many distractions, so it takes conscious effort to take a moment to remember why we are doing this each and every day.

Q: According to the Reston Hospital Center website, the hospital provides signature services from 24/7 Emergency Care, Women's care and Neonatology, Surgical Care with nationally recognized Spine, Orthopedic, and Bariatric, along with Virginia Institute of Robotic Surgery and Inpatient Rehabilitation Center. Discuss involvement in training new doctors, if any, and would your responsibilities include providing any patient care, direct or indirect?
A: The biggest challenge is making sure that we have the right processes, equipment, and support staff in place to allow our doctors to safely and effectively use this cutting edge technology. It is one of the most exciting aspects of my job, and I look forward to working with our team as we utilize technology to enhance the care that we deliver.

Q: What types of foods and pastimes are your favorites?
A: Hands-down, Italian. My family and I had the privilege to be stationed in Sicily, Italy, when I was in the Navy. Through this experience, we all gained an appreciation and passion for travel and Italian food!
Q: What might people be surprised to learn about you?
A: My wife and I have adult, boy-girl twins, and they were literally born the day before I started medical school.
Q: Is there something else you want to share about your leadership role at Reston Hospital?
A: I am thrilled to be working at Reston Hospital Center. The physicians, nurses, and staff are all extremely talented, motivated, and rightly proud of all that they have accomplished. We are all dedicated to providing the best care possible to our community and beyond. In addition, my wife and I love the Reston community, and we are thrilled that this is now our home.

ACCORDING TO A HOSPITAL SPOKESPERSON, the arrival of Dr. Taghon wasn't the only thing that was new and exciting at Reston Hospital Center: "In 2019, Reston opened a new 18-bed, private room inpatient rehabilitation center, a state-of-the-art, 24-bed intensive care unit (ICU), a 4-bed antepartum unit for high-risk OB patients, a second cardiac catheterization lab, and a 400-space parking garage for patients and visitors. Further, Reston has welcomed Children's National Hospital neonatologists (ranked number one in the nation by U.S. News & World Report) to cover the neonatal intensive care unit (NICU) 24/7. Reston has also obtained recent accolades from national organizations, including an "A" grade in patient safety from the LeapFrog Group and two recognitions from the American College of Surgeons – Verified Level II Trauma Center and a Center of Excellence in Minimally Invasive Gynecologic Surgery."