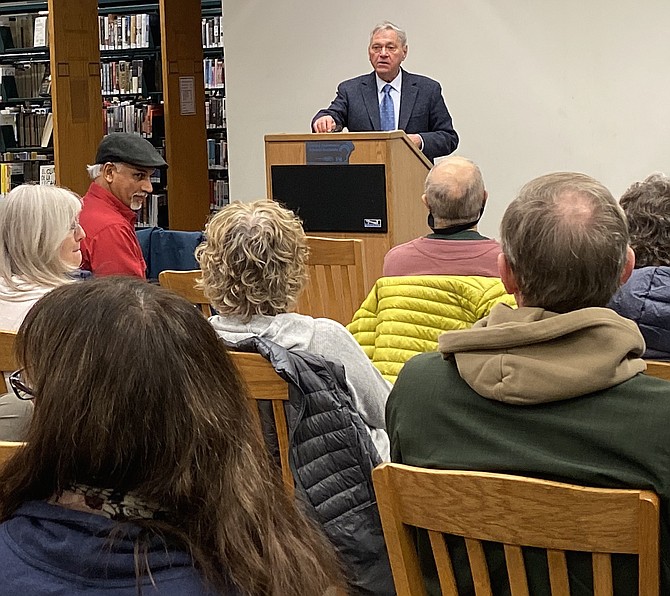 Extreme climate effects as a danger and primary concern of United States national security: that was the topic Nov. 14, when Reston Regional Library partnered with Scrawl Books to host author Michael T. Klare for a discussion, sale and signing of his just-published book, "All Hell Breaking Loose: The Pentagon's Perspective on Climate Change."

Klare is a defense correspondent, Director of the Five College Program in Peace and World Security Studies at Hampshire College, and a senior visiting fellow at the Arms Control Association. Klare is also the author of fourteen other books, including Resource Wars (2001), Blood and Oil (2004), Rising Power, Shrinking Planet (2008) and The Race for What's Left (2012).
Before Klare began his formal presentation and discussion at the library, patrons said what prompted them to come to the educational program offered through the Fairfax County Library System. Trudy Bell of Reston: "I'm here to learn more. I know nothing about how climate change impacts the military."
Ruth Percival, Reston: "I'm here to learn about how climate change impacts all areas of life. I do believe recycling and conserving energy all have an impact."
Daniel Volman of the District of Columbia: "I'm an old friend and long-time supporter of the author. I read military policy."
Ben Taylor of Reston: "Katherine Murphy of Reston brought me on a date to the library. I'm interested in the topic."
ACCORDING TO KLARE, the U.S. military may not seem a likely institution to be worried about climate change; however, international competition over resources such as fresh water and land has led to conflict. "As I began to be involved in this research, over time, it became very clear that conflict occurred as waters rose, as rising temperatures flooded many areas of the world. Precipitation would drop, and it was harder to grow crops. Food supplies would disappear...and this would likely increase competition over scarce resources," he said. In the last ten years, Klare said as he continued his research, he discovered he was not alone in examining the relationship between climate change and its peril of resource scarcity and conflict.
"I discovered the U.S. Department of Defense (DOD) was also researching the same topic...That got me very interested. Why is the DOD so interested in climate change and its consequences...this isn't exactly a military matter," he said. According to Klare, he spent the last five years researching the Pentagon's study of climate change and its impact on U.S. national security. He visited bases. He conducted interviews with current and retired officers and asked them what the highest priority of the U.S. military was today
"They would say it is preparing for a conflict with Russia or China. No question about it…counter-terrorism, counter-insurgency, but that era is now over. Our adversaries have used that time to beef up their military, so we must compete at a high level with Russia with China...Talk deeper with the officials, and you see they have this other concern about climate change. They believe their ability to pursue their primary concern, gearing up for a great power conflict, is being undermined by climate change and will become more so each day as we move into the future."
As examples, Klare said as sea-level rise and more intense storms occurred, what once were nuisance floodings would turn disastrous for east and west coast bases like Naval Station Norfolk, the nation's largest naval base and Naval Base San Diego, the second-largest Surface Ship base of the United States Navy. Also, instead of the United States military fighting on the battlefields of foreign war, they could be fighting domestic crises such as looters on the home front.
"And this is not what they want to do. They will see that there will be these complex emergencies, where the government will collapse, and they will have to step in and perform that role." Klare said the United States (and other countries, China and Russia) would be committing their military forces more and more to disaster relief at home too.
IN ONLINE REVIEWS of his book, Klare provided quotes by General Ron Keys, United States Air Force (Retired), chairman of the Center for Naval Analyses (CNA) Military Advisory Board; and John Conger, former Principal Deputy Under Secretary of Defense (Comptroller).
"Michael Klare has done a masterful job of capturing key points in the U.S. military's pragmatic approach to climate change. As he shows, the military is building resilience in its own training, testing, and ability to respond, and is clear-eyed about warming's effects in catalyzing chaos and crises abroad that it may be called upon to respond to." – Keys
"Michael Klare does an exemplary job of recounting not only how military leaders view climate change differently than politicians on either end of the political spectrum, but why they do so. Seamlessly weaving together a narrative of Pentagon reports and compelling testimony, he shows that the military sees climate change as a threat to its capacity to defend the nation." – Conger
In the book's final sentences, Klare said, "In time, perhaps under a new administration, these voices will be heard more widely, and we will all benefit from these officers' valuable insights. Until then, hopefully, this book can provide a useful synthesis of the U.S. military's analysis of the consequences of climate change and the measures it is taking to guard against those consequences and reduce their severity."
"All Hell Breaking Loose: The Pentagon's Perspective on Climate Change," is available at Scrawl Books in Reston Town Center Reston, Amazon, Fairfax County libraries and other venues.
According to Fairfax County: "The library presents and hosts events on a range of topics of interest to the Fairfax County community. We strive to sponsor events that educate and entertain while connecting people with others who share common interests and goals." Visit: www.fairfaxcounty.gov/library/events for more information.