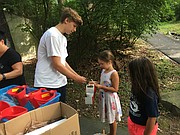 Although the 2018-2019 school year is well underway for the students at Lake Anne Elementary School in Reston, the tunnel mural they helped to create at the start of the school year will be there for some time.
The students at Lake Anne Elementary School, alumni, teachers and families came together to create "Community Circles," located down the street from the school in the Fairway Drive Tunnel at the intersection of Fairway and North Shore drives.

Lake Anne Elementary School alumnae Dillon Melnick, currently a South Lakes High School senior, and his mother, Lorrie-Ann Melnick, a teacher at Lake Anne, organized the event. Lake Anne administrators, PTA, Reston Association, and local businesses provided materials and support.
The students created the mural using mandalas they designed themselves. The word mandala loosely translates to circle or universe, and generally has repeating colors, patterns and shapes radiating from its center.
The painting day was a way for Dillon Melnick, as he told in a video on the Lake Anne Elementary School website, for him to give back to the community, as well as a way for the students and their teachers to give back, too.