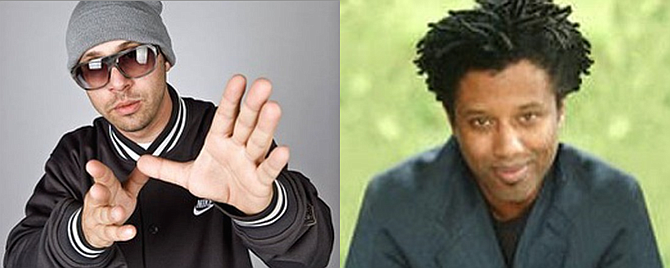 "This was phenomenal. A different modality for discussing the sensitive issues of race, racism, cultural, and diversity issues." — Lisa Sechrest-Ehrhardt, member of Reston Community Center Board of Governors
Reston Community Center (RCC) presented "The Color Orange," a hip-hop concert about friendship and multiculturalism featuring longtime friends rapper/poet Mohammed Bilal and hip-hop musician Josh "Boac" Goldstein. The afternoon performance was at the CenterStage in Reston, on Sunday, Jan. 21. The unlikely duo, who termed themselves "polar opposites" outlined 10 steps towards the path of cross-cultural communication and understanding through a fury of what RCC billed as "hip-hop, theatre, and sheer mayhem."
"THE COLOR ORANGE" was the final performance event in Reston Community Center's weeklong Reston Dr. Martin Luther King Jr. Celebration, part of the center's current series, "Building Community: Equity Matters. In its marketing booklet, RCC heralded the experiences as "...opportunities for individuals and groups to convene and engage with the continuing issues of social justice and equity as they are lived."
Paul Douglas Michnewicz, director of Arts and Events Reston Community Center, welcomed the audience to "The Color Orange" and introduced Goldstein and Bilal who in 1997 formed the underground hip-hop group, "Orange Flash." Michnewicz spoke about how for Bilal and Goldstein the name epitomized the moment of a great idea, their orange light-bulb moment of innovation and creativity. The two used their unlikely friendship and combined their loves of theatre with hip-hop to actively challenge the American labels of "black and white," Jew and Muslim, "urban and suburban."
"The Color Orange" was an original rap concert based on their friendship and would provide the audience a different modality to look at race, racism, and ways individuals and groups can get along.
A stool, chair, and table supporting a laptop and sound system comprised the minimalist set design for "The Color Orange." It effectively focused the audience's full attention on Bilal and Goldstein as they outlined the 10 steps toward multicultural understanding beginning with Step One: Knowledge of Self. Goldstein initiated and rapped a description of himself as a short wealthy Jewish Caucasian from San Francisco with a passion for hip-hop and rap. Bilal rapped a portrait of himself as a large African male who hailed from a struggling Washington, D.C., neighborhood with similar passions.
In steps two and three, Try Not to Judge and Take a Chance, the pair stressed the importance of not generalizing biases, of saying hi to people one passes. They urged audience members to get out of their neighborhoods, away from where they frequent and experience something different. "Feel a little uncomfortable," they said.
Goldstein retold the story of when a friend invited him to his neighborhood in a ghetto and how when left alone for a moment, he was initially frightened and mistook what was a friendly encounter with a black stranger, as a danger. Not wanting to put anyone in real danger, the pair offered audience members an alternative to go out and volunteer instead. "Take a chance," they chimed.
In the fourth step, the performers talked about discovering their Common Interests, and how Bilal a Muslim joined Goldstein in rap at his Jewish Community Center.
Step Five: One on One appeared to hold much merit for both Goldstein and Bilal. They stressed that through friendly meet-ups and talking to individuals on a one to one basis, the cultural belief that if someone is different, it is wrong, can be broken. "It can happen in the smallest commonality and interaction," the duo sang. The best place to connect, they said, is at community centers, like the one in Reston.
While Step six placed value on Cultural Understanding, not cultural identity, in the seventh step, Time, Goldstein and Bilal professed a minimum of three weeks to look past genetics. Otherwise, as they affirmed, "You will miss a friendship."
For the eighth step, Boundaries, the pair told the story of singer Sam Cook and the cross-cultural appeal of his music in 1952. When Cook performed in the south, segregated audiences were common with a rope between the whites and the blacks. "Like everything is fine, separated by a twine," Bilal rapped. Ropes may be gone now physically, the pair explained, but the ropes remain in people's minds. According to the performers, "We create the boundaries; we decide not to connect."
For the ninth step, Show Some Humanity, the rappers urged audience members not to dehumanize each other by buying into the propaganda of community views but instead seek to learn about the individual, the person. Ending the performance, Goldstein and Bilal shared the 10th tool. Simply put, the rappers said, "Laugh and have fun. Enjoy life."
Audience reaction to the performance appeared very positive. Lisa Sechrest-Ehrhardt, Ph.D. Diversity Trainer/Consultant and a member of Reston Community Center Board of Governors said, "This was phenomenal. A different modality for discussing the sensitive issues of race, racism, cultural, and diversity issues."
Audience member, Antonio Baylor of Fairfax said, "Sameness is not always rightness."
AFTER THE PERFORMANCE, Goldstein and Bilal each named what they considered the most two important steps out of the 10. "Take a Chance," Goldstein said.
"It's really simple," he explained. "When you step out of your comfort zone, interesting things can happen. One on One resonates with me too, being it brings up a bit about our friendship," he said glancing at Bilal.
For Bilal, Knowledge of Self is key. "You have to understand yourself first before you can understand others," he said.
"And Time," Bilal said. He explained, "The time frame of three weeks came from bell hooks, American author, feminist and social activist, when she talked about civil rights trouble. In the '60s, you could only talk about how anti-racist you were by the amount of time that others in the community saw you spending with people who were different."
When asked to provide a "thought nugget," something the performers wanted audience members to recall, both Goldstein and Bilal hesitated. "Diversity, equality, and inclusion are not about Others," spoke up Bilal. "And that's with a capital 'O.' It's about you."
As part of the tour and as an outreach activity to youth, on Monday, Jan. 22, Goldstein and Bilal took "The Color Orange" to students at Hughes Middle and South Lakes High schools in Reston, because as the rappers said about working with youth, "We love it."