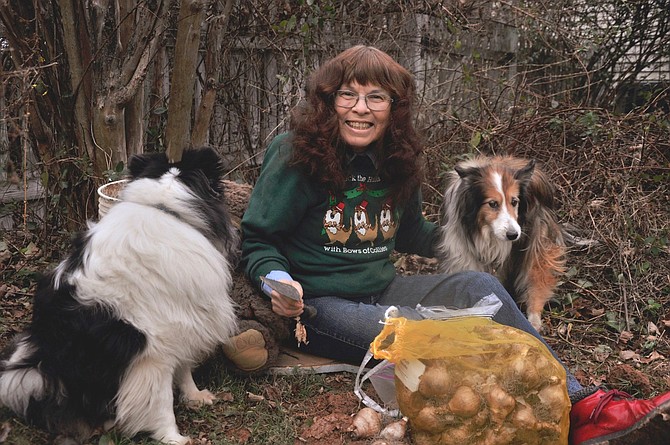 "Sometimes it's simply time to pursue other interests and I'm 71 years old," said Marcia Wine in an interview upon her retirement in mid-November as Assistant Children's Librarian at the Reston Regional Public Library.

Many parents, children and even adult "children" will remember Wines and her treasured sidekick, Busia Bear. For thirty-five years, twenty with Fairfax County, Wines delighted audiences with her storytelling, engaging audiences with props, puppets, masks and more.
"Marcia's work at the Reston Regional Library was all about special moments for people of all ages. She enchanted adults as easily as children by sharing the wonder of a well-told story," said Katilyn Miller, Branch Manager of Reston Regional Library.

Wines said that she would come loaded down with props. "It's storytelling, not story reading. You can present a story as a song; act it out or put it on a flannel board. A book is just one format." In recalling her work, Wines said she encouraged audience members to join in. "Children were active participants in my storytelling. They got inspired and then ran to the library to get the books like bees to a hive to relive the experience."
Ha Hoang, Assistant Branch Manager, Reston Regional Library said she noticed when Wine was at the library; she made it a magical place. Hoang described Wines as "a quintessential storyteller and performer who inspires kids to want to read, to explore, and to be creative."
Ilze Long, retired Assistant Branch Manager at Reston Regional Library, wrote in her retirement letter to Wines, "The children at Reston, indeed Fairfax County, were in good hands with you! You enchanted and delighted both young and old. I always considered that hiring you was one of the best things I did at Reston."
Asked what's next in her life, Wines said, "I remember at the end, I had tears in my eyes, but it is time to go, while I still have my health… I will always be telling stories; I'm not done. Storytelling is my thing. I need this year to unwind, and I imagine next year, I'll be at nursing homes, Head Start… I'll turn the page and start a new chapter in my life."