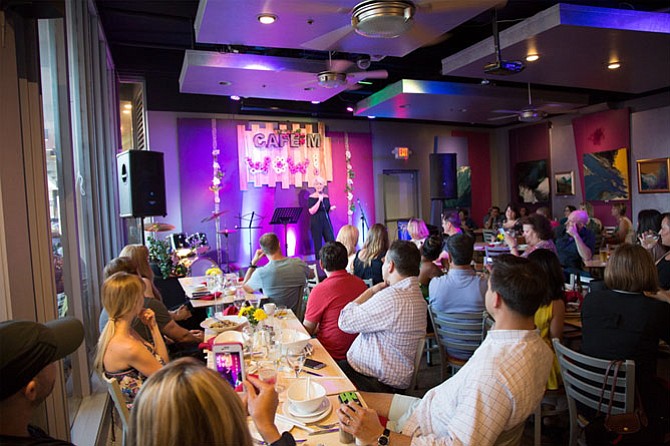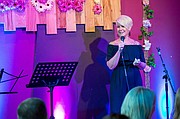 Raunchy, crude and explicit jokes flew from the stage across the packed Café Montmartre for nearly two hours on Saturday night, July 8.
It was exactly what Robin Dodd wanted.
The high school teacher and Reston native, who performs stand-up comedy in Washington, D.C., with stage name Robin Rex, founded FunnyFriend Productions and spent months hiring and planning for the event. It was her first time booking and promoting a show, so she was nervous about it for the three months it was being planned, but everything ultimately came together.
"It is kind of like a marathon," Dodd said after the show. "You build up, you build up and then you're just spent and then you think, 'I'm never doing that again.' … But it was so nice to see all my friends, and the show went so well we agreed to do another one."
Most shows like this are in the District, and the ones that branch out don't usually venture farther than Arlington. Dodd wanted to give the Reston community a chance to see comedy at home rather than drive several towns over.
Bringing in an audience was no problem, as the café filled up and some guests had to stand in the back; there were 75 paid guests. The Lake Anne plaza restaurant isn't usually packed, so the night was successful on both ends, and Dodd can use this as a selling point going forward.
"To fill a place to capacity, I had someone taking pictures so that now, if I want to go to another venue, like in Herndon or Arlington or something, I can say this is what I did, and this is how much business I brought to this restaurant," Dodd said.
The Café Montmartre had never held a comedy show — although several bands and musical guests had performed there — so it was a new experience for management. Since the event brought several new faces to the café, its staff was excited to make plans for another one.
"This turned out great. I love it," said Ahn Le, the café's general manager. "This is a first try for the long run."
The comedy lineup was headlined by Rob Maher, who has appeared on Comedy Central's "Hart in the City," among other places. He followed Gil Segev, Dominic Rivera and Chelsea Shorte, who filled in for Franqi French, another Reston native, after French had to bow out because of a dental emergency. Dodd said she was looking for a variety of comedic styles, which was on display Saturday.
During the show, Dodd and Le agreed to hold another event in the café on Saturday, Sept. 23. Dodd hasn't been in comedy long, so to put a successful show together and have plans for another is an impressive start.
"I think this was an absolute success, and I feel really good about my production company now, and so I can go forward and do other things," Dodd said. "But I love Reston, and I definitely wanted to get a show back here."