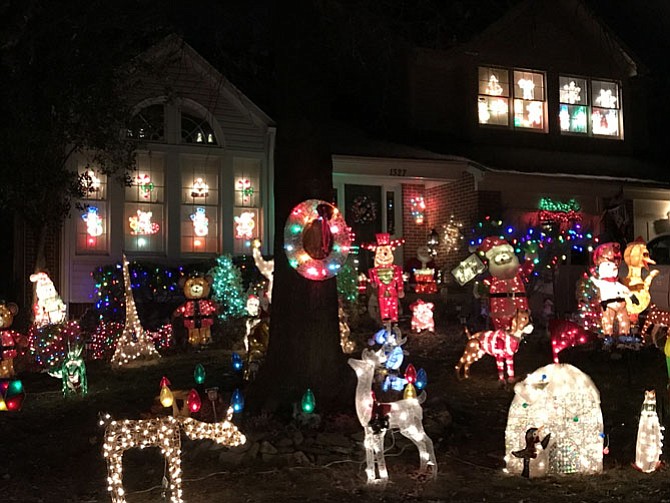 Winners
1009 Monroe St. – "Fairytale Christmas," dancing lights throughout the yard.

1003 Van Buren St. – "The Big Dragon," a large holiday dragon looking over a yard of lights and candy canes.

1371 Dominion Ridge Lane – "Lollipop Lane," cascade of lights, stars, and lollipops.

721 Old Hunt Way – "Midnight Blue," a collage of silent night, midnight blue lights.

1101 Bicksler Drive – "White Lights," a burst of classic white lights.

618 Merlins Lane – "Kid's Delight," Christmas is covered here with Santa, nativity, nature, candy canes and reindeer.

1407 Winterland Court – "Old Fashion Christmas," Santa, polar bears and trains surrounded by white lights.

1327 Summerfield Drive - "Christmas Village," a yard full of jolly fun with characters of all sorts.
Honorable Mentions
697 Old Hunt Way, 1505 Snowflake Court, 762 Grace St., 1001 Pembrook St., 1106 Waterford Place, 1355 & 1351 Icy Brook Drive, 1302 Summerfield Drive, 1508 Summerset Place, 117 Anthem Drive, and 1501 Snowflake Court.
Outdoor holiday lights have come a long way since Thomas Edison introduced the first ones as a Christmas display in 1880. In cities and towns lights twinkle and spread cheer across America during the Christmas season.
Adding a decorating contest kicks the fun up a notch. With that in mind, the Town of Herndon held their annual "Dress Up Herndon for the Holidays" contest on Monday, Dec. 11, 6-8 p.m.
With the help of a list of citizen-nominated addresses, members of the Town's Cultivating Community Initiative and their guests piled into a town van and took to the streets. They checked out all the nominated entries as well as other homes they spied as the merry group transversed Herndon's 4.2 square miles of neighborhoods. From mini-lights with built-in twinklers to different incandescent light sizes and inflatables, the displays brought out a competitive spirit in many citizens vying for an award. The great Christmas light fight in the Town of Herndon was on.
During the judges' jolly ride through the night, they assessed the entries considering – among other factors – creativity, over-all design, originality, and of course, the brightness of the displays.
Three hours later, a bit cold but filled with good cheer, the committee had awarded eight holiday signs, Publisher's Clearing House style. A sneak up to the front door, a quick knock, and when the door opened: "Surprise! You've won!"
The town's website recommends citizens, "Pile the kids, dog, and neighbors into the sleigh and check out this year's 'Dress Up Herndon for the Holidays' contest winners!"