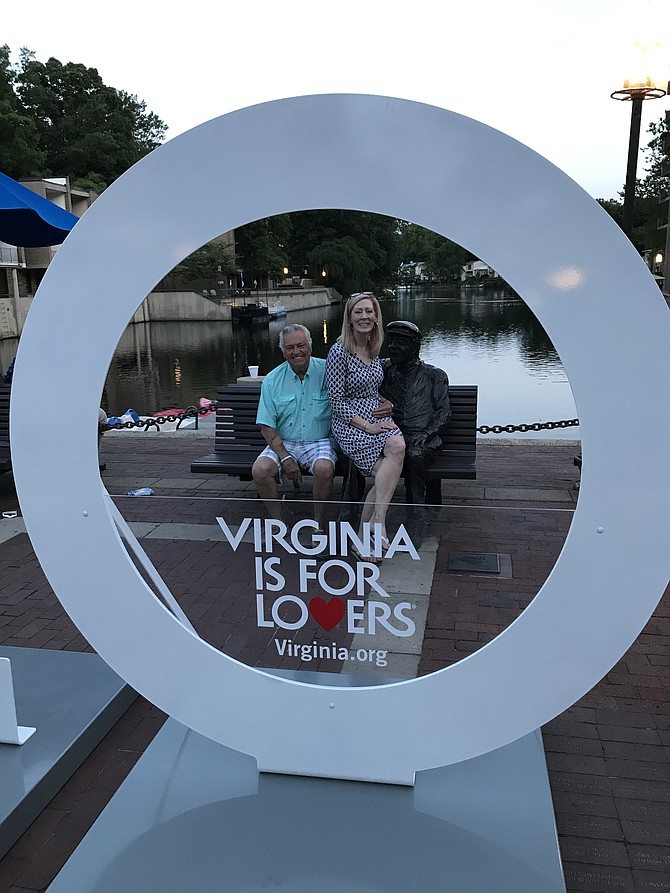 Top Ten Reston Places, Events (and Some More)
Our very favorite place is sitting on our deck looking over Lake Newport watching the birds, turtles and people boating and paddle boarding enjoying all the lake has to offer.

Sitting by the fountain at Reston Town Center greeting friends and people watching.

Strolling through Browns Chapel Park listening to sounds of summer baseball or listening to all the critters at our other favorite park by the Nature House.

Having a bite to eat at an outdoor restaurant at Lake Anne.

Center Stage performances at Hunters Woods are always a welcome treat.

Northern VA Fine Arts Festival is a must every May.

Challenging our artistic sensibilities at regular GRACE art exhibits.

Reston Home Tour is a fun fall outing good for home décor inspiration.

Taking the tour of Reston's beautiful and fun public art all over Reston.

The YMCA kids Tri is a great August event as is the brand new Lake Anne Cardboard Boat Regatta benefiting the Reston Museum.

(We just couldn't narrow it to 10): Recognizing the unsung heroes, who give so much of their time, talent and treasure, at the Best of Reston Gala benefiting the programs of Cornerstones.

Just one more…sitting outside having dinner at Clyde's or Kalypso's listening to a summer concert.
We both feel incredibly blessed to have spent our entire adult lives here in Reston. Jim having worked for all master developers beginning with our founder Bob Simon and Karen launching into community work as the first CEO of the Reston Chamber of Commerce. It was our shared passion for making Reston the very best community it could be that brought us together. We put our passion into our jobs, or volunteer activities and into experiencing all that Reston has to offer.
The highlight of Jim's career was overseeing the planning and development of the first phase of Reston Town Center as President of Reston Land Corporation. When asked how he would know if Reston Town Center was a success, he simply said, "If I hear people all over town saying 'Meet me at the Fountain and we'll pick a restaurant or movie.' Then I will know we've made it." He also brims with pride when talking about the growth and prominence of the Greater Reston Arts Center (GRACE) of which he has played an instrumental part since nearly the beginning. Reston Town Center now joins Lake Anne Plaza, Hunters Woods Plaza, The Nature Center, Reston Community Center and the parks as gathering spaces that create the sense of place that Bob Simon believed would make Reston successful.
We are both avid YMCA members and volunteers, nature lovers, art enthusiasts and we love spending time with people who share our desire to live in a true community where all are welcome and positioned to thrive. We are grateful for organizations like the Y and Cornerstones who support our most vulnerable neighbors and we are proud of the citizens of Reston who come together to support one another and keep the dream alive.
Reston was founded on seven principles and the slogan was "Live, Work and Play." In recent years the words "and get involved" were added since volunteerism and activism have long been a mainstay of this community. A couple of years ago we presented the concept of the following new slogan to Bob Simon: "Planned, Proven and Connected."
He asked "What's wrong with Live, Work and Play?" to which we responded "Nothing. It was such a success that it has become ubiquitous and Reston a model for how to develop a community."
If you are new to Reston, welcome. With the arrival of Metro we are growing and we are thrilled to have you here. It is important to us that we continue to live the ideals that were the foundation of Reston, so please find a passion and get involved and if you are on the plazas or walking on the RA pathways, please look up and say hi to your neighbors. If we know one another we will continue to support one another and preserve what is Reston for the next generation.
We love everything Reston and we hope you do too.
Jim and Karen Cleveland are community leaders and volunteers who were named Robert E. Simon Fellows in 2014 for their lifetime commitment to the people of Reston.