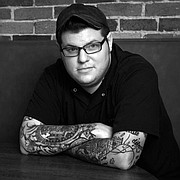 Husky, tattooed, and obviously driven, Adam Stein, executive chef at Reston's newish Red's Table, is all about food and cooking. Even his numerous tattoos are mostly food-centered, with images ranging from Julia Child to caviar to Maryland crabs.
How did all this start? A native of Fairfax Station, Stein said that cooking always fascinated him, even as a child. "I always watched cooking shows," he said, "Including Julia Child, Jacques Pepin and Martin Yan of Yan Can Cook." His grandmother and her baking also played an inspiring role, so that the youngster often made breads and cookies. He was also tasked with making holiday meals and even pea soup.
Although his grandmother's cooking did not include any particular ethnic identities, he and his family ate out constantly, so young Stein got a good sampling of numerous ethnic and American cooking styles. "That helped spur my interest," he added.
After attending Antioch College, Stein moved to Providence, R.I. to attend the culinary school Johnson & Wales. But he knew from the start that was going nowhere. "There were all kids in the class," he said, "and I already knew all the answers." He then tried to attend the Rhode Island School of Design, but instead wound up working in various local kitchens, getting his first executive chef's position at The Nat Porter in Warren, R.I.
When Stein moved back to the metro area several years ago, he worked for D.C.'s The Queen Vic restaurant, then for Alexandria's Light Horse Tavern restaurant before the owners of Red's Table hired him. And for sure it has been a beneficial match for both parties. For the owners, Stein is a talented chef who turns out top notch fare with creative spins.
For the chef, he has landed where he can count on farm-fresh ingredients to shape into his favorite American regional dishes "Here we use all local farm goods," he said, "We feature local proteins on the menu and take our cues from the farmers' market, utilizing as much local produce as we can in peak seasons." He finds his inspiration from local, regional and seasonal sources and he lets all of that play a big role in his cooking. But he wants his food to be as approachable as possible, so his cooking also has a homemade vibe to it.
Take his fried chicken, for example, one of the homiest dishes people always crave. As it turns out, says Stein, it is also the restaurant's most popular dish. "Our buttermilk fried chicken is very popular at Red's," he said. "We dredge it in our house blackening seasoning and then sous vide it before bathing it in buttermilk and a cornmeal crust."
Such dishes explain why the family who owns Red's Table must rejoice with the opening of this gem of a restaurant. For Northern Virginians, Red's is a really convenient place to end up for its picturesque lakeside setting and comfy American food.
Red's Table, South Lakes Village Shopping Center, 11150 South Lakes Drive, Reston. Phone: 571-375-7755; Open daily for lunch and dinner, weekend brunch. http://redstableva.com.
Red's Table's Roasted Mushroom Ragout
Serves 4 to 6 people
"In the restaurant we toss this ragout with Strozzapreti pasta and finish with grated fontina and grana padano cheeses, extra virgin olive oil and breadcrumbs," said Stein. This ragout can be added to any pasta or even risotto or farro/grain dishes. This would be a great topping for creamy polenta as well."
1 pound cremini mushrooms, cut into ¼-inch slices
1 pound shiitake mushrooms, stemmed and julienned
1 pound oyster mushrooms, roots trimmed and hand-torn into strips
3 tablespoons olive oil
Salt and freshly ground pepper to taste
3 shallots, peeled and minced
2 garlic cloves, minced
1 tablespoon tomato paste
1 cup red wine
1 teaspoon fresh thyme leaves
Preheat oven to 375 degrees.
Toss all the mushrooms in bowl with the olive oil, and season with salt and pepper. Laying them on a sheet tray, roast at 375 degrees F for about 30 minutes, turning the mushrooms once until most of the liquid from the mushrooms has evaporated and some nice caramelization develops; set aside.
In a heavy-bottomed pot or roasting pan, sweat the shallot and garlic over medium-low heat until translucent. Add the tomato paste and stir in well, cooking for about 10 minutes. Add mushrooms to the mixture, and increase heat to medium-high. Add red wine and continue to cook until the liquid reduces to half. Add fresh thyme and taste for additional salt and pepper.