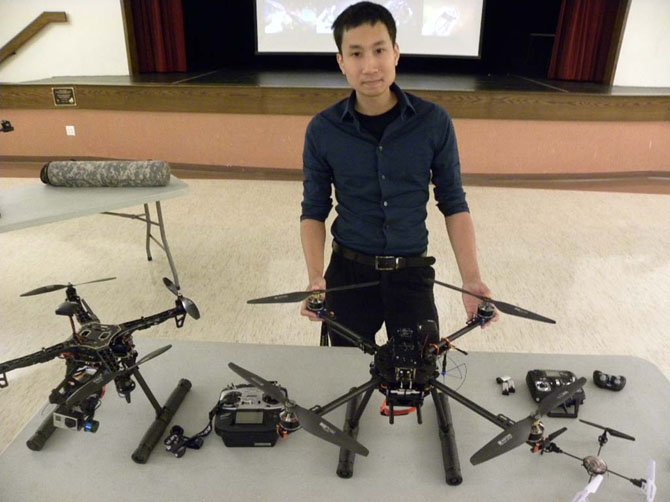 Over twenty drone hobbyists met at Reston Nova Labs to discuss recent emails announcing the extension of FAA's "no drone zone" deeper into Virginia and Maryland in a 30-mile radius beyond Ronald-Reagan Washington National Airport in D.C. Drone violations and fines have led to awareness of the ban in D.C., but this ban is the same as the no flying zone restricting heavy, commercial aircraft. These measures by the FAA essentially shut down drone clubs within a 30-mile radius of Washington, D.C. "This is perhaps the best time and worst time to be involved in drones," said Fairfax resident and drone hobbyist Shane Smith.
Nova Labs is located at 1916 Isaac Newton Square, West in Reston. The nonprofit organization was founded in 2011 and has been active in supporting educational outreach programs. This includes the annual NoVa Mini Maker Faire, which is independently organized by Nova Labs and is operated under license from Maker Media, Inc. Nova Labs is affiliated with local maker groups, including the D.C. Area Drone User Group. The D.C. Area Drone User Group is a community of over 2,500 drone enthusiasts dedicated to teaching people to build and operate their own flying robots and promoting positive social applications of civilian drone technology.
THE FAA'S RECENT REGULATIONS are causing some drone debate amongst hobbyists and users. At the end of December, the FAA launched a drone registration with live support on Dec. 25. When registering, users are asked to confirm they understand the basic rules of consumer drone flight, such as the need to stay below 400 feet, fly during daylight, keep the drone within visual range and to not fly near airports. The Academy of Model Aeronautics, which has its own registration system for model aircraft, asked members not to register their model planes. The FAA is trying to balance the needs of the American people, allowing the most freedom of airspace while keeping it regulated.
"Like the introduction of any new product or technology, we can take advantage of the benefits only if they do not exceed the costs including liabilities and unintended consequences," states Lance Sherry, director of the Center for Air Transportation Systems Research and George Mason University professor with the System Engineering and Operations Research Department. While technologies such as geo-fencing and vehicle-to-vehicle interrogation may be able to monitor drones and Unmanned Aircraft Systems (UASs), for now manual intervention in the form of regulations is being used to control drones. "I have faith we will work together to build and operate these system in safe and value-added manner," said Sherry.
Due to GMU's proximity to National and Dulles airports, aerial vehicle flights have always been prohibited on the campus. The GMU stadium (Eagle Bank Center, formerly the Patriot Center) is one landmark for the no-fly-zone boundary. "The 30 mile radius from D.C. seems a bit excessive, however I firmly believe that this was done with good cause," says Daniel M. Lofaro, assistant professor in the Electrical and Computer Engineering Department at GMU. Lofaro is director of Lofaro Labs Robotics and the Drones and Autonomous Systems Lab. "The FAA has gone to great lengths to allow the home user to continue to fly their own aerial vehicles," says Lofaro. "The point of the registration process is to make sure the drone owners and flyers know the laws associated with flying an aircraft."
While many attending the meeting in Reston agree with the idea of registration for drone owners, some were critical of the amount of information the FAA requires. "I don't mind registration if it was done properly, I'm okay with that. But how far is this going?" asks aerial photographer Jack Hardway. Since Christmas, drone vendors have been putting up notices of the FAAs new rulings, and many drone hobbyists are realizing drones will now have increased scrutiny.
The FAA estimates 1.6 million small, unmanned aircraft were sold in 2015, with half during the last three months of the year. The requirement covers aircraft weighing from more than half pound up to 55 pounds, including any payload such as a camera. Drone owners 13 and older will have to register on an FAA website. The FAA expects parents to register for younger children. Those who got drones before Dec. 21 must register by Feb. 19. People who buy them later must register before their first outdoor flight.
DRONE OWNERS WILL HAVE TO provide their name, home address and email, and their identity will be verified and payments made by credit card.
"I agree with the registration, if drones crash into someone or something, somebody should be held accountable. But there are some flaws in this registration such as the privacy," said South Lakes High School senior Jacob Hutzler. Hutzler, who plans to study engineering, owns a drone he constructed. With the 30-mile no fly zone, Hutzler must travel to fly or test his drone. "These rules are making it real hard for this hobby," said Hutzler.
Burke resident and D.C. Drone User Club president Christopher Vo has been concerned by the FAA's decisions on drones. In September of 2015 the no fly zone radius was extended from 15 miles to 30 miles, affecting as many as 36 drone clubs. "It is really important to preserve the ability to make things in a hobby like drones," said Vo. Vo sees the 30-mile no fly zone as a restriction and handicap. Instead of learning drone technologies, Vo worries youths and students may see increased regulation as too much of a challenge to study drones and their application. "It is frustrating that FAA is imposing these rules on law abiding radio-controlled aircraft hobbyists that have been operating safely for decades," said Vo.
The FAA announced drone owners must register their device with a name and home address by February 19th, 2016 or face civil penalties up to $27,500 and criminal penalties up to $250,000 and three years in prison. Virginia law allows police officers to use unmanned aircraft with video for major disasters, Amber Alerts and search-and-rescue operations that are "necessary to protect life, health or property." The FAA requires government entities to apply to operate drones. Cities with approval must notify the FAA before flying them to ensure they do not interfere with aircraft. Read about the FAA's Know Before You Fly educational campaign at http://knowbeforeyoufly.org.