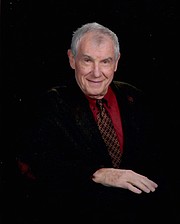 On July 25, 2016, Bob Hanlon, 81, died peacefully in his sleep at his home in Reston. Born in Cincinnati, Ohio, the greatest influence on his life were the ideals and ethics instilled in him by his Jesuit teachers at St. Xavier High School. After completing his bachelor's and master's degrees in industrial engineering at Ohio State, Bob worked for Bell Labs in New Jersey, followed by 40 years working as an engineer in Washington [Mitre, TRW, Tandem and Computer Science].
He was a "Reston pioneer," moving to the new town on Aug. 1, 1966 and beginning a career of singing and service for the next 52 years. He served as president of two institutions in their first year of existence—The Reston Chorale in 1966 and the Reston Catholic Community in 1968. In 1970 he represented St. Thomas a' Becket on the board of the Reston Interfaith Housing Corp which successfully brought 200 units of affordable rental housing to Reston in 1974.
The institution changed its name to Reston Interfaith as more congregations joined and social services needed in Reston were added. It continues today under the name of Cornerstones, representing a unique merger of secular and religious institutions in Northern Virginia.
Bob continued to serve as a representative to Cornerstones for almost 20 years and was board president from 1982 to 1984. In lieu of flowers, contributions may be made to The Reston Chorale for its 50th Year Celebration; Cornerstones for its charitable endeavors; or St. Thomas a' Becket's Summer Work Camp [high school students repairing homes for indigent elders]. Bob is survived by his wife of 51 years, Harriet Wehner Hanlon, by his son Mark C Hanlon [wife Kristi], by his daughter Marymai H Quaglia [husband Michael], by his grandson Seamus Fulton Hanlon, by his brother James T Hanlon [wife Kathy], by his brother-in-law Robert L Wehner [wife Ellen], by his sister-in-laws Mary Wehner Glazer, Martine Wehner and Joy Wehner and by many nieces, nephews and cousins. His son John Gregory Hanlon predeceased him by 13 months. A Mass of Resurrection will be held on Aug. 12 at 11 a.m. at St. Thomas a' Becket Catholic Church, 1421 Wiehle Ave, Reston, with a reception following the service. Email condolences may be made at WWW.adamsgreen.com.