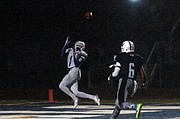 With his team down by two points in the first quarter of a wet and windy matchup with Washington-Lee, South Lakes sophomore quarterback Devin Miles had a decision to make.
Facing third-and-goal at the 4-yard line, Miles placed the ball in the belly of his running back, pulled it back out and moved to his left. After evading a W-L defender, Miles lunged toward the goal line, breaking the plane for a touchdown and a Seahawks lead.
On South Lakes' first possession of the second half, the Seahawks faced third-and-goal from the 6 and the play call was for Miles to have a run/pass option. Miles faked a handoff before delivering a strike to senior Seth Ravenstahl for a touchdown.
"It was a read, and it was just open," Miles said, "so I took it."
South Lakes beat W-L 28-2 on Friday night at Washington-Lee High School in Arlington. The win improved the Seahawks' record to 4-1, including 3-0 in Conference 6. It's South Lakes' best start since 2010, when the Seahawks won their first four games and five of their first six.
"To be honest, this is what we expected," said Ravenstahl, who is in his third varsity season. "We worked all offseason. We didn't have any time off. The week after the season ended, we went back out and we were lifting --- green days and all that. We pretty much expected this."
South Lakes' combined record the previous four seasons was 11-30, including 2-8 last year.
What's different about the 2015 Seahawks?
"This team wants to win," Ravenstahl said. "The last few teams, they didn't really want it that much. They wanted the big plays. They weren't about the chipping away at [the opponent's] defense. This team is about moving the ball, smacking them in the mouth, just how we do it."
One reason for South Lakes' strong start is the play of 5-foot-8, 165-pound sophomore Miles, who is in his first season as a varsity starter. On Friday, No. 3 completed 2 of 5 passes for 34 and two touchdowns, and had a potential third touchdown pass slip through a receiver's hands in the end zone. Miles also carried 14 times for 46 yards and a touchdown.
"I think he's doing really well," second-year South Lakes head coach Trey Taylor said. "We put a lot on him and we run a true option where he's making a lot of decisions on the field. … I think he does really well for the amount of stuff we're throwing at him. For only having five games under his belt as a varsity player, I think he's just going to keep getting better."
South Lakes senior Eric Kirlew helped set up a second-quarter touchdown with an 87-yard run, and hauled in a 28-yard touchdown pass with 4:29 remaining in the first half. Sophomore running back Spencer Alston carried 11 times for 67 yards, and sophomore running back Albert Mensah's 1-yard touchdown run on fourth-and-goal gave the Seahawks a 14-2 lead with 7:01 remaining in the second quarter.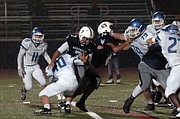 The South Lakes defense did not allow a point for the second consecutive week (W-L scored when a South Lakes punt snap went through the end zone for a safety). The Seahawks limited the Generals to 94 yards of offense and forced three turnovers.
Last year, South Lakes surrendered 33.6 points per game. This year, the Seahawks have allowed 9.6 per contest.
"To go from where we were prior to [the coaching staff] getting here and even where we were last year," Taylor said, "I'm thrilled with the way the defense is playing."
Taylor said the defensive line --- ends Ravenstahl and Mensah, and tackles Dylan Gill and David Kroll --- played well against W-L.
South Lakes got off to a rough start Friday, committing four penalties on the game's opening drive before lining up to punt deep in its own territory. The punt snap went through the end zone for a safety, giving Washington-Lee an early 2-0 lead.
W-L's ensuing possession started at its own 47-yard line, but the Generals couldn't capitalize as the Seahawks defense forced a three-and-out. South Lakes then blocked the W-L punt and took over at the Generals 29. Seven plays later, South Lakes took the lead for good on Miles' 4-yard touchdown run with 5:09 left in the opening quarter.
"We talk about it all time --- it's one play at a time and the scoreboard doesn't matter, and these guys really play like that," Taylor said. "We could turn the ball over and have a good play or a bad play, and they're right up to the ball, playing again, where as last year we really let what was happening in the game affect us throughout the game."
South Lakes will host rival Herndon at 7 p.m. on Friday, Oct. 9.
"I think it's going to be a big one," Ravenstahl said. "It will definitely be the busiest game we've had so far and I think it's a game we expect to win."