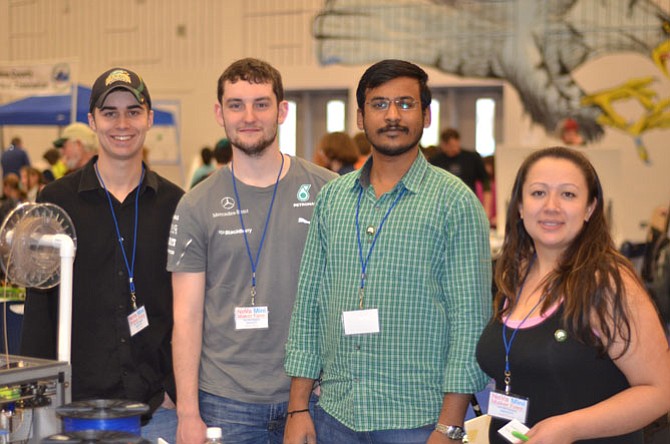 The family-friendly showcase of invention and creativity returned to Reston on Sunday, March 15. Tech enthusiasts and innovators gathered in Reston for the second annual NoVa Mini Maker Faire at South Lakes High School and Langston Hughes Middle School. New features for this year's event included additional guest speakers, increased food trucks, as well as representatives affiliated with institutions such as George Mason University and Virginia Tech. The original Maker Faire event was held in San Mateo, Calif., and has since been held in other cities. "I think it is awesome when so many people of so many different backgrounds can come together," said GMU student John Hill.
According to Brian Jacoby, one of the Faire organizers, the Faire is a showcase of invention, creativity and resourcefulness and a celebration of the Maker movement, the tech-influenced DIY community that is generating new products and services. Faire-goers can participate in workshops, food, performances, and a series of short talks. Attending again this year was the D.C. Area Drone User Group, which is dedicated to teaching people to build and operate their own flying robots and promoting positive social applications of civilian drone technology. "The event has been as good as last year, even better," said Chris Vo, president of the D.C. Area Drone User Group. The drone group has a free event planned on March 21 at UAS Academy at Warrenton Training Center.
"Northern Virginia has long been a hotbed for technology, innovation, creativity, and the entrepreneurial spirit," Jacoby said. The NoVa Mini Maker Faire brings together a diverse audience of all ages interested in technology, engineering, arts, crafts, food, music, science and sustainability.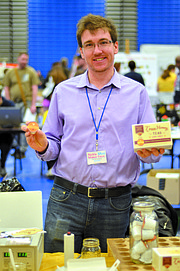 LIKE LAST YEAR, faire volunteers gave basic soldering instructing, information on 3D printers, and displayed art made of fiber optic cables. Josh Ajima, Technology Resource Teacher at Dominion High School and Loudoun Academy of Science brought his display of 3D printers and displayed a 3D Gumball Gallery. New to the Reston Maker Faire were blacksmith enthusiasts affiliated with the Blacksmiths' Guild of the Potomac Inc. The two blacksmiths, SLHS junior Everest Gromoll and Madison HS junior Owen McGunnigle, did a demonstration outside South Lakes HS.
Assisting with many events were volunteers, including Reston students such as Angie McCarthy, a senior at South Lakes HS. McCarthy volunteered at the GEMS Take Apart Zone at Langston Hughes. "I think this is really fun, a lot of the kids are a lot more knowledgeable than some may imagine," said McCarthy. At the Northern Virginia GEMS site, children were able to get hands-on experience in using tools to disassemble items including printers, copiers, keyboards, and other electronic machines. "The goal is to fix things, not just take them apart," said Elizabeth Vandenburg, executive director of GEMS Club.
One of the goals for this year's event was to build on last year's success and be more engaging. Some participants from last year who returned expressed satisfaction that some of the locations had been reorganized so they were not crowded. "The turnout has been wonderful," said Paula MacDonald, a board member and volunteer with the Children's Science Center. Jacoby expressed satisfaction with the final turnout and volunteer efforts. While South Lakes High and Langston Hughes Middles helped display different exhibitors, guest speakers made presentations at Langston Hughes Theatre.
SOME OF THE GUEST SPEAKERS included Children's Science Center Nene Spivy, entrepreneur of True Honey Teas Chris Savage, and Lance Bush president and CEO at Challenger Center for Space Science Education. "What you innovate today may lead to the next big innovation," said Bush.
"I've been amazed at the breadth of things to do, including the making of jewelry and crafts," said Springfield resident Jennifer Orr who attended the event with her husband and daughters.
NoVa Mini Maker Faire is independently organized by Nova Labs and is operated under license from Maker Media, Inc. Nova Labs relocated to a facility at Sunset Hills Road to 1916 Issac Newton Sq West in Reston. "My kids and I come and stay all day, this event gets us all very excited about STEM," said Reston resident Mike Colllins.