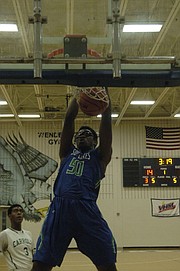 With his team building an early lead against Archbishop Carroll, South Lakes sophomore Emmanuel Aghayere threw down a two-handed dunk in the opening quarter of Friday's contest, part of a 10-0 Seahawks run.
With 2 minutes remaining in the first half, Aghayere, a physical, 6-foot-3 forward, took a charge with South Lakes leading by 23.
Aghayere took another charge in the opening minute of third quarter. Less than 20 seconds later, he scored and drew a foul at the other end.
The South Lakes boys' basketball team is young, athletic and full of energy. On Dec. 4, one night after the Seahawks squandered a lead during a 63-56 loss to Robinson, Aghayere's high-energy play helped South Lakes bounce back with a 74-60 victory over Archbishop Carroll during the second day of the "Readers are Leaders Tip Off" at South Lakes High School.
AGHAYERE finished with 16 points, dunked twice and took multiple charges, leading the Seahawks to their first win of the 2015-16 season.
"High energy, big-time motor, much like his sister," is how South Lakes head coach Andrew Duggan described Aghayere, comparing him to his sister, Princess Aghayere, a 2015 South Lakes graduate and former basketball standout at the school. ... "I think he enjoys stepping in and taking a charge. It's a matter of pride and honor. ... We're hoping something like that rubs off on other guys. I see him as a leader. I see him as a hard worker."
How does Aghayere decide when it's time to block a shot and when it's time to take a charge?
"You can tell when a guy is coming down the lane hard it's time to take a charge," he said. "Charges help the team. It just boosts our morale and helps everyone get hyped."
The previous three seasons, South Lakes was led by standout guard Brandon Kamga, who helped the Seahawks win the 2014 Conference 6 championship. Kamga graduated in 2015 and is now a freshman on the Northeastern University men's basketball team. This year, South Lakes features a nucleus of young talent, led by Aghayere and a trio of talented guards.
Marcus Cherry, a 6-foot-1 junior, led South Lakes with 21 points on Friday. He scored 10 points in the first quarter, including a pair of 3-pointers.
Duggan described sophomore guard Damon Johnson as a high-energy player and a strong defender. Johnson finished with 12 points.
Cameron Savage, a 5-foot-10 freshman, is the team's starting point guard.
"I think we're just all really unselfish," Cherry said. "We all can get our shots pretty easy because we all have that confidence when we're dribbling the ball and we all feel we can put the ball in the basket any time we need to. We all feed off each other really well."
Senior guard Marvin Grunshie finished with seven points on Friday and was one of 12 Seahawks to score against Robinson.
South Lakes defeated Woodson 77-62 on Tuesday and lost to Westfield 74-58 on Wednesday, moving the Seahawks' record to 2-2.
South Lakes will travel to take on rival Herndon at 7:15 p.m. on Friday, Dec. 11.
"The group is very special," Duggan said. "Part of it is their athleticism, their basketball skills and their knowledge and they're smart kids and they work hard, but even when they're down, they're still pretty dang good."