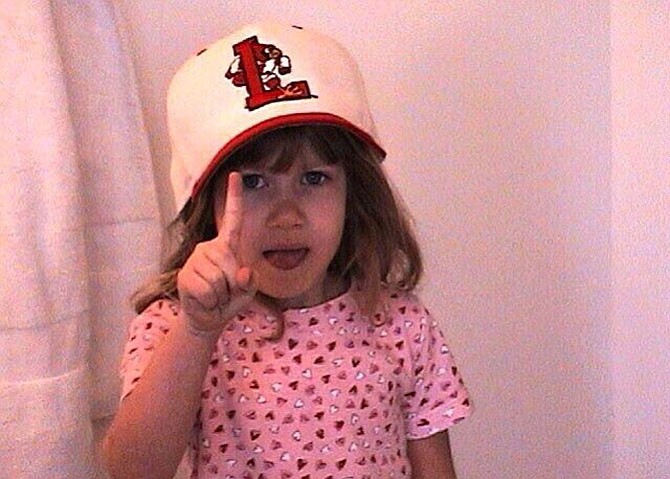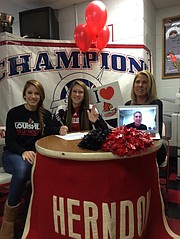 Taylor Stone is a life-long fan of the Louisville Cardinals.
Last week, she took the next step in becoming a student-athlete at the university, as Stone, a senior at Herndon High School, signed a letter of intent to play field hockey for the University of Louisville, where she will join a program that produced a 15-6 record during the 2014 season.
Stone helped lead the Herndon field hockey program to its best season in more than three decades. The Hornets finished 19-3 and won the Conference 5 championship, beating defending state champion Westfield 3-2 in the tournament final. It was Herndon's first conference/district title since 1979. The Hornets fell one win shy of states, losing to Fairfax in the region semifinals for the second consecutive season.
Stone finished with 23 goals and 20 assists in 2014. For her efforts, she was named 6A North region Player of the Year.
Stone recently participated in a Q&A with The Connection.
*Connection: What made Louisville the right choice for you?
Stone: My Dad grew up in Louisville and my Grandparents are still there. We have always been Cards fans. I always knew that I wanted a big sports school. I wanted a school that was competitive, and with Louisville now in the ACC it shows how badly they want to compete. But I was most impressed with the commitment that Louisville has to women's sports. Field hockey has its own stadium and gets treated as well as any other sport. Every sport is important at Louisville and I felt that commitment.
*Connection: When did you realize you wanted to be a Cardinal?
Stone: (see picture) The final decision was difficult as I was looking at a couple of other great schools. I had a brief moment on a plane ride back from my last recruiting trip my junior year, where I put everything into perspective and realized that Louisville was the only place I could see myself. I have always been a Cardinal fan and I really felt a connection with the coaching staff.
*Connection: You were named 6A North Region Player of the Year. What does that honor mean to you?
Stone: It is a great honor, but to me it is a team honor. Our team accomplished things that no other field hockey team has at Herndon High School and, really, only the boys' basketball team has in the last few years. I am sure that this award is due to how well our team did. There were great performances on our team and our defense was a key to our success. It means a lot to me that I was selected in this pool of great players.
*Connection: At what age did you start playing field hockey?
Stone: Fourth grade, 9 years old.
*Connection: When did you realize playing Division I field hockey was an option for you?
Stone: The summer before my freshman year I made the National Futures Tournament, which is the first step in the USA Field Hockey pipeline. I was 14 years old and college coaches came to watch a tournament.
*Connection: What is your favorite memory from playing field hockey at Herndon?
Stone: No question, the feeling when the clock ran out and we had finally beaten Westfield for the Concorde Conference championship. Hugging all of my teammates, especially the seniors. Herndon won five games the year before we got to school and had not won a conference game in years and there we were in our senior year as champions. None of us will ever forget beating great Chantilly and Westfield teams on back-to-back nights.
*Connection: What are you most looking forward to about going to college?
Stone: I think I can get better and I know that Louisville will have every resource to help me be the best player I can be. Louisville has a very good program and I am looking forward to joining such a great family.
*Connection: Who is your favorite music artist? Why?
Stone: Rascal Flatts; I've always loved their music, and their songs never get old.
*Connection: What is your favorite movie? Why?
Stone: 'Miracle;' I love inspiring stories and sports movies, so 'Miracle' fit the book perfectly.
*Connection: What is your favorite food?
Stone: Hummus and falafel.
*Connection: Are you a pro sports fan? If so, who are your favorite teams?
Stone: I will always be a Cub fan, but I really like college sports more and my favorite team ... the Louisville Cardinals.