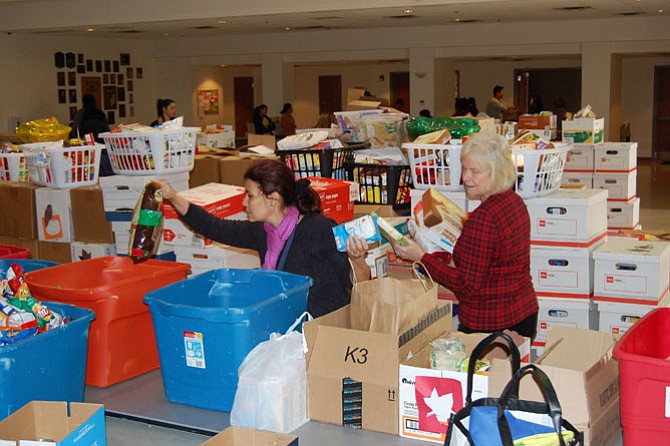 Cornerstones and Reston Community Center [RCC] are working together to make sure families can have a special turkey dinner - and still eat well during school breaks - this holiday season.
Their annual Thanksgiving food drives, geared towards families in Herndon and Reston, will provide hundreds of families with food baskets with enough meals for a special dinner and enough snacks for children who are on holiday breaks.
Cornerstones and Reston Community Center's food lists ask for different items to be used for different reasons. While Cornerstones' drive creates holiday food baskets that include gift cards for a Thanksgiving ham or turkey, RCC's list focuses on the everyday food that may be missing from the family's pantry during school breaks. Both drives, however, benefit Cornerstones' families and others who have signed up.
"Reston Community Center organizes all the logistics-recruits companies and organizations to be a donation site, distributes donation boxes and flyers, advertises the drive, collects all the donated food in the days before Thanksgiving, organizes the Food Sort event on Thanksgiving Day, and delivers all the food and other items to the Cornerstones storage facility," said RCC Community Events Director Kevin Danaher.
AS OF SUNDAY, 42 locations - including all the community centers - throughout the area have donation boxes for the cause. Items RCC is asking for include pancake mix, baby wipes and diapers as well as canned soups.
Both organizations noted how the drives have become community events for the greater Reston area.
"Since 2008, the food drive has grown steadily year by year, and now is about 25 percent bigger than it was in 2008, both in terms of donations and volunteers," said Danaher. "Several years ago I started limiting the number of volunteers as I was getting so many people there trying to work that it became difficult to move around and get things done."
Their drive will be until Nov. 24. Volunteers will transport all the goods to Cornerstones on Thanksgiving day to put into their storage room.
Alacia Earley, Cornerstones volunteer and drives manager, said their drive has also seen a steady increase. Last year, nearly 2,000 holiday baskets were donated, ensuring each family a basket for Thanksgiving and for the winter holidays. This year, they are planning to give baskets to 900 families in the area - but that number could increase.
"If anyone moves in after the holiday registration, we'll have extra baskets for them," she said.
Their collection site is at St. John Neumann Church, located at 11900 Lawyers Road, on the 20th and 21st. Local families make the collection and dropoffs an annual tradition. Media Representative Angela Suarez said she made the collection a family affair last year, and brought her son, Mario.
"He was very moved by his experience helping last year, especially when he helped deliver food to senior citizens' homes," she said about her 14-year-old son. "He was overcome by how grateful they were."
FOR MORE INFORMATION about Reston Community Center's food drive, visit http://www.restoncommunitycenter.com/attend-shows-events-exhibits/event-detail/2014/11/02/default-calendar/thanksgiving-food-drive-2014.
Information about the Cornerstones food drive can be found at http://www.cornerstonesva.org/donations/drives/thanksgiving/.