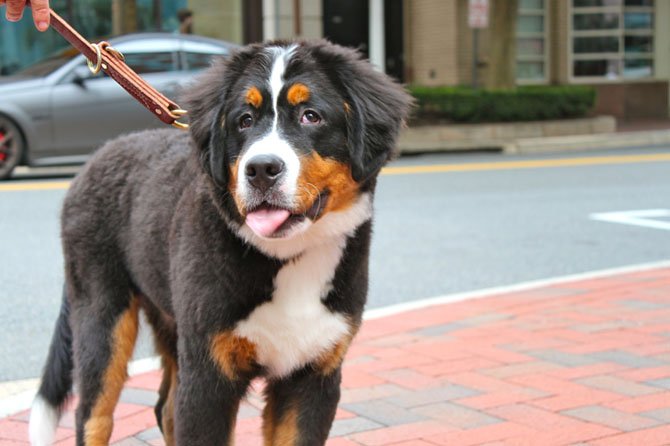 Bodie spends Friday evening wandering in and out of stores at Reston Town Center, padding his way around iPods and dusting the walls with his fluffy tail.
The 5-month-old Bernese Mountain Dog was undergoing an obedience training session from dOgBEDIENCE trainer Michael Peer, a police officer that turned his passion for dogs into a part-time job.
In the past three years, he has professionally trained more than 1,000 dogs - and that's outside of the 30 years he has owned dogs and eight years he's trained police dogs.
"I just do it so often that I know what the dog needs," said Peer, of Reston. "My goal, obviously, is to have the owner be able to handle a dog better."
Bodie, the black, brown and white fluffball, was not a hard-to-handle type of dog. As he trotted on the sidewalk, he elicited coos from pedestrians both young and old. However, Peer said over the years, he has gotten calls from people hoping to correct their dog's aggressive behavior. He has been bitten several times, including once on the stomach. He does not let aggression deter him from his work, however. He uses a trail mix-like bag of treats to win over the trust of the dog, then uses the treats to reinforce positive behavior while ignoring negative behavior.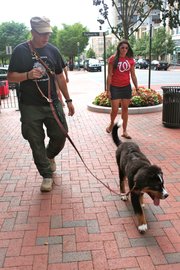 Peer said his training technique is different because he does not use prong, shock or choke collars, which he said could create a more aggressive dog if used incorrectly.
"I handle the dog first, then I let the owner use the techniques to handle their dog," he said. "Half of what I do is build up the confidence of the owner. I get so many, you wouldn't believe, that are just shaking in their boots."
Bodie's owner, Irelynn Legler, said the family had a Bernese Mountain Dog who recently passed away. They chose the breed because they are good family dogs, but knew Bodie would get a lot bigger, a lot stronger, and possible a lot more stubborn with age.
"I wouldn't necessarily say there are corrections needed," said Irelynn, Herndon. "We have three young boys and want them to be able to walk him as well."
Her husband, Brian, talked about the last dog's training experience.
"We did dog training for the last one as well," he said. "We did group classes and it was a horrible idea. We did one-on-one sessions after that."
Michael gets a lot of dogs that previously had group obedience classes, which he said are distracting.
The first session is usually a two hour session at the owner's home, but later sessions can be out in public depending on the dog's needs. He employs the help of his 15-year-old son Brett and right-hand dog Rogue to help with behavioral issues. No matter what age, says Brett, "old dogs can learn new tricks."
To find out more about dOgBEDIENCE, visit http://www.dogbedience.com or call 571-437-4200.