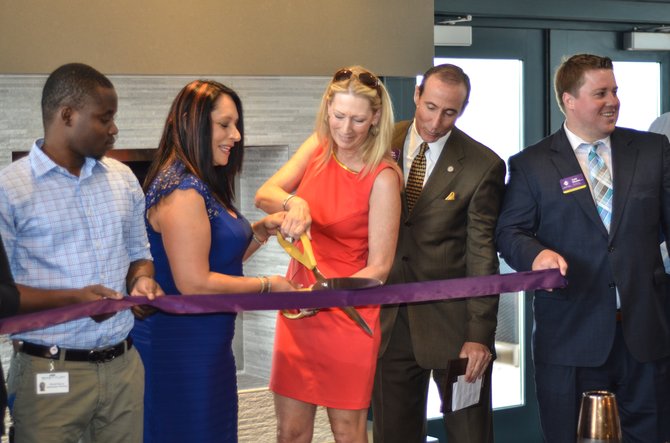 In celebration of the completion of a rooftop makeover, the Metropolitan at Reston Town Center hosted a ribbon cutting ceremony with the Reston Chamber of Commerce in July. The event unveiled enhancements to the high-rise rooftop amenity spaces. Located at 1855 Saint Frances Street in Reston, the Metropolitan building was constructed in 2007 as a flagship property in Reston.
Representatives from several businesses came to interact with attendees of the event, as did residents of the Metropolitan. The rooftop level includes a sports club with cardio-theater equipment and saunas, and a movie screening room with surround sound. Renovations on the rooftop began in January of 2014 and ended the first week of May.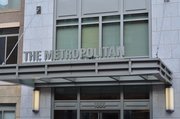 "The management team would like to personally thank every one of our residents for their patience and cooperation in allowing us to enhance your rooftop amenities," said Katherine Cordero, property manager for Metropolitan at Reston. There are seven Metropolitan location in the Washington D.C. metro area, and these are operated by McLean based real estate developer Kettler Inc.
"It is nice, it was not bad before, but it had a hotel lobby look," said Reston Metropolitan resident Tom MacPhail. "Now it is more homey and inviting, it feels like you are sitting in a nice living room." Tom and his wife Kathy moved into Metropolitan at Reston in March 2013. "We did not expect to like apartment living but we have thoroughly enjoyed it," said Kathy MacPhail. One aspect of the apartment they enjoy is that Reston Metropolitan is pet friendly, permitting up to two pets at apartment locations.
"It is so welcoming, it feels like a living room," said Reston Chamber of Commerce Secretary Mark S. Ingrao. "Yet you cannot get vistas like this in a living room," remarked Reston Chamber of Commerce Board Chair Karen Cleveland. "The Metropolitan has been a wonderful partner with the Reston Chamber of Commerce," said Cleveland. "Just by adding a few elements they created a sense of community in the rooftop." The Greater Reston Chamber of Commerce provides quality programs, education, connections and advocacy for members and organizations in the Dulles Corridor. Future upcoming Reston Chamber events include a July 22nd Network Night in the Promenade between Mayflower's and Mon Ami Gabi at Reston Town Center. The event will be tented and occur rain or shine. The morning of August 6 the Reston Chamber will hold a new and prospective member orientation.
At over 21 stories high, from the rooftop of Reston Metropolitan it is possible to view Tysons Corner, Dulles International Airport, and Sugarloaf Mountain in Maryland. Other features of the Metropolitan Club on the rooftop level include an outdoor swimming pool with hot tub and residents' lounge with a billiards room. "The Metropolitan has always been a flagship building in the Reston Town Center and an apartment community that has set the bar for competitors, present and future," said Cordero. To read more about the Metropolitan at Reston Town Center, visit metreston.com.