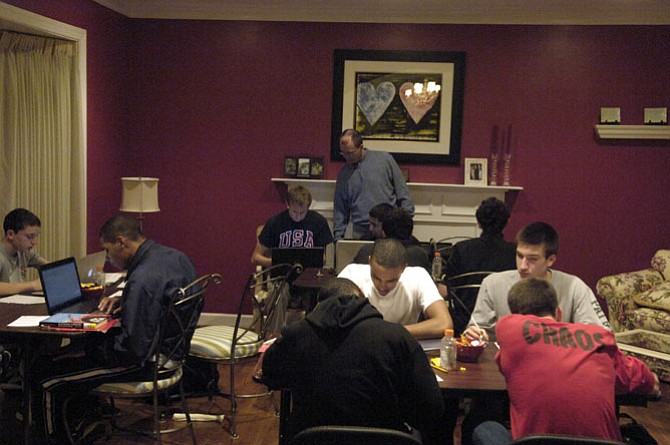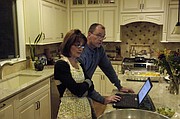 Gary Hall and his wife, Colleen Mulrenin, attended a Herndon boys' soccer game in the spring and wondered what could have been.
Hall, a PE teacher and head boys' basketball coach at Herndon High School, knew the Hornets weren't operating at full strength. He knew of several athletes at HHS who could help the soccer program, but for whatever reason were unable to play. Whether it was poor grades, family responsibilities or simply a lack of discipline, talented teenagers capable of making a difference weren't part of the team.
"It was the same story over and over again," Hall said. "All these kids weren't playing. It was like we need to try to figure out some way to help."
After discussing the matter, Hall and Mulrenin decided to open their doors --- and offer their help --- to Herndon athletes. In September, during the second week of the 2014-15 school year, Hall and Mulrenin began hosting a weekly study hall at their home in Reston. Three months later, a group of about 25 boys show up each week, ready to study, ready to spend time with their friends --- and ready to eat.
"It's evolved," Hall said, "into this really cool thing."
THE STUDY HALL started on Tuesday nights in the fall. Kids arrive at the house around 7 p.m. At 7:15, it's time for dinner. Sometimes Hall and Mulrenin purchase food from a local restaurant. Sometimes Mulrenin prepares the meal (spaghetti and tacos are among the boys' favorites). Either way, Hall and Mulrenin consider it money well spent.
"There have been nights where we've gone through 150 tacos and 12 pounds of ground beef," said Hall, a 1979 Herndon High School graduate. "It's awesome."
The meal is significant for some of the students in attendance. Three students at a recent study hall told Mulrenin it was the only meal they ate that day.
"For some of them, the meal is actually important," said Mulrenin, a lawyer whose children attended Herndon High School. "It's a good, nutritious meal that they might not be getting."
After dinner, it's time to get to work. Students study from 8 p.m. until 9:15 or 9:30. Members of the Herndon football, boys' basketball, baseball, and boys' soccer teams set up around the house and work on assignments. The dining room is the math room. Basketball players usually set up shop in the living room, while soccer players hang out in the kitchen. The library is used for computer work, which is helpful as some of the students don't have Internet access at home.
There is candy at every table.
"We do have it down to a science," said Mulrenin, or "Ms. Colleen," as some of the students call her.
After studying, students relax with 30-45 minutes of recreation time. Some play pool downstairs. Others play Xbox.
By 10 p.m., it's time to go home.
As basketball season approached, Hall was concerned whether he could coach and continue hosting the study hall. Would he miss opportunities to scout future opponents? Would he stretch himself too thin?
Hall and Mulrenin decided it was important to keep the study hall going.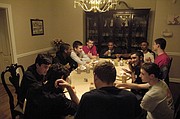 THE WEEKLY MEETING was moved from Tuesdays to Thursdays. A scheduling conflict led to a Sunday meeting, as well.
"The one thing Colleen and I have made a commitment to is we cannot cancel," Hall said. "We're having study hall every week. …. We're not going to quit on [the kids]."
While Hall and Mulrenin didn't quit on the students, they do have to rush at times to make sure things are ready to go by 7 p.m. Mulrenin leaves her office in Tysons Corner at 5:15. Hall and the boys' basketball team are finished with practice at 5:30. From there, dinner is purchased and/or prepared. The work tables remain set up to save time.
"When people get here, it looks great," Hall said, "but they don't see what happens [to get it ready]."
Michael Griffin is a 6-foot-2 sophomore guard on the Herndon boys' basketball team. He hasn't missed a study hall.
"At first, I thought that it was just going to be hanging out with my teammates and friends and have a good time," Griffin said. "Then I found out that it's a good place to get my homework done because I have trouble getting homework done at home. It was good to have him open his house to us to get homework done."
Griffin said he hopes to one day play college basketball. As a freshman, he struggled with his grades. This year, his grades have improved and he was recognized as the study hall group's most improved student during the first quarter.
Griffin said his favorite study hall dinner is Colleen's spaghetti with meatballs. When work is done, he enjoys playing pool and said he is usually on the winning team.
"It's like a second home," Griffin said. "Everybody loves it and we anticipate it every week. Everyone is always texting our group chat … 'we have study hall tonight.'"
Chris Recinos is a senior soccer player. Last year, he was unable to play for the Hornets due to failing four classes, he said. This year, Recinos said his grades have improved and he's eligible to play.
"[The study hall has] helped me a lot with just keeping things more organized and getting more time for my homework," Recinos said. "… Last year, I would just blow things off and I didn't really care as much. Coach Hall's study hall gives me a little more motivation to do my work because they're going out of their way to help me and my fellow students. …
"It's really nice for Ms. Colleen and Coach Hall to do this. Taking their time and money to help us out, I really appreciate them doing it. It motivates me to do my work and I look forward to [soccer] season."
Recently, parents and neighbors have donated desserts for the study hall. Local businesses have offered discounted food. One neighbor is paying for a math tutor to help the Herndon students. The tutor sometimes stays an extra 30 minutes and works for half-price, Mulrenin said.
"Nobody's getting a tax break … people are just willing to help," Mulrenin said. "… All of these people, we didn't ask for their help, but they heard the story and people are just throwing [help in our direction]."
Along with continued weekly meetings, the study hall group planned to dress up and go out for a holiday dinner this week.
"I grew up in Herndon," Hall said. "Herndon is my school. Herndon is my community. The reality is, if I'm only helping or working or having any influence over the young people in the basketball program, I'm being rather shortsighted. This was an opportunity for us to help."