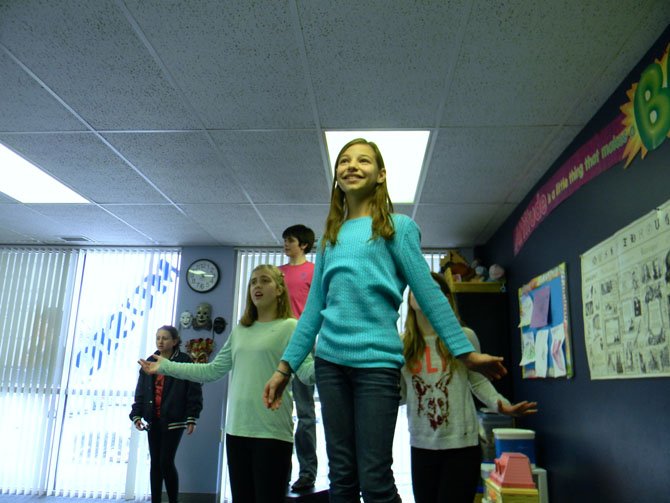 The famed "Thoroughly Modern Millie" once traveled to the Big Apple to explore the world outside her little town of Salinas and make her dreams come true. From Jan. 17-19 a group of 11 talented young performers from Lopez Studios, Inc. Performing Arts Preparatory School will travel to Atlanta, Ga., to make their own dreams come true at the 2014 Junior Theater Festival and to portray the classic Broadway hit featuring Millie.
For its second year in a row, Lopez Studios, Inc. will be sending theater students to take part in the Festival that brings together students, teachers and Broadway professionals to celebrate young performers of musical theater. Along with 98 other groups from across the country, the festival team from Lopez Studios will be presenting a 15-minute segment from a Broadway Junior production. This year the studio chose "Thoroughly Modern Millie" to perform. Last year the team performed "The Little Mermaid Junior."
Auditions were held in order to determine roles for the production. The rehearsals are intensive and the students learn about performing as well as learning their parts in the show. Margarita Gamarnik, an 11-year-old from Reston, will play Millie. "There's a lot of things that I've learned. Not just about technique and vocal technique but also acting and dance technique. I've also learned a lot of good lessons from the directors Miss Kessler and Miss Konovalov," said Gamarnik. "I've gotten better at harmonizing. I've gotten better at getting my blocking down the right way and remembering," said 14-year-old Blake O'Brien from Round Hill, playing Trevor Graydon Jr.
While attending the competition, the team's performance will be adjudicated by leaders in theater and education. "They give the kids immediate feedback. Something I loved about our adjudicators last year is they really paid attention to the kid's names and they would point them out by name. And point out things they thought were really good and they were very specific," said the show's director Jennifer Kessler. Laila Galant, 14, from Broadlands attended the Festival with the cast of "The Little Mermaid Junior" last year. "To be critiqued by Broadway people is amazing," said Galant, who will be playing Miss Dorothy Brown.
Big names in theater have attended the Festival in past years and have lead workshops for the directors, theater leaders and students. "Last year they had Jeff Calhoun who directed Newsies on Broadway…It was just amazing to hear him talk about the creative process," said Kessler.
The Festival is geared more toward celebrating theater than creating a competitive environment, but awards are given more so in the form of superlatives in categories such as best student director, choreographer and music director. A select few teams will be chosen to perform in the closing ceremonies.
From April 3-6, 2014 the performance division at Lopez Studios will be performing "Thoroughly Modern Millie Junior" in its entirety at Industrial Strength Theater in Herndon for $12 a ticket. If you are interested in getting tickets to the show or participating in a Lopez Studios production in the future, visit http://www.lopezstudiosinc.com.