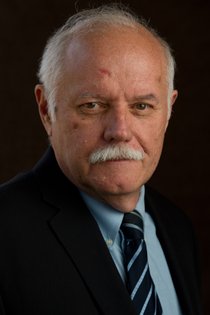 Kemal Kurspahic is a managing editor for The Connection Newspapers. He was the editor-in-chief of the Bosnian daily Oslobodjenje in Sarajevo, Bosnia Herzegovina, 1988-94. Under his leadership the paper published every day from an atomic bomb shelter during the siege of Sarajevo, maintaining high professional standards and Bosnian culture and tradition of ethnic and religious tolerance in the midst of terror.
Kurspahic received numerous awards for his contribution to press freedom and human rights, including the World Press Review's International Editor of the Year and the Bruno Kreisky Award for Human Rights in 1993; the International Press Institute's World Press Freedom Hero in 2000, and the South Eastern Europe Media Organization's Dr. Erhard Busek Award for Better Understanding in the Region in 2003.
He served as a diplomat, first as the Spokesman in Vienna, Austria, 2001-04, and then the Caribbean Regional Representative in Barbados, 2004-06, for the UN Office on Drugs and Crime. As a journalist and a diplomat, he visited 60 countries.
Kurspahic was a Nieman Fellow at Harvard University, 1994-95, and a Senior Fellow at the US Institute of Peace, 1999-2000. He is the author of four books, including As Long As Sarajevo Exists (Pamphleteers Press, 1997), and Prime Time Crime: Balkan Media in War and Peace (US Institute of Peace Press, 2003). This book was also published in Sarajevo, Belgrade and Ljubljana. His Op-Ed pieces have been published in all major international newspapers including The New York Times and Washington Post and he was interviewed on all major TV and radio programs internationally.

Recent Stories

Welcome
Combating that holiday period which the National Highway Traffic Safety Administration says is a "dangerous time to be on the road due to a high number of drunk drivers behind the wheel," a local nonprofit organization will offer free cab rides to would-be drunk drivers throughout the Washington-metropolitan area during the winter holidays.