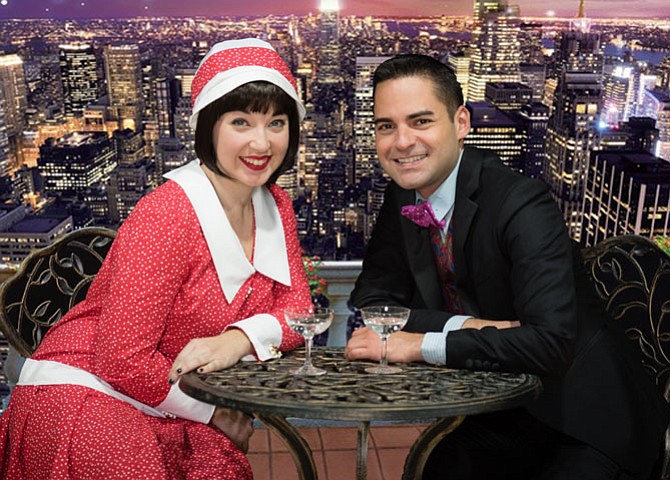 Where and When
Reston Community Players "Thoroughly Modern Millie" at Reston Community Center, CenterStage, Hunter's Wood Village Center, 2310 Colts Neck Road, Reston. Performances April 20 to May 12, 2018. Friday and Saturday at 8 p.m. with Sunday 2 p.m. matinees on April 29 and May 6. Tickets: $23 Adults, $20 Seniors (65 and older), and $20 Students (18 and younger). Call 703-476-4500, or visit online at www.restonplayers.org
Concluding its 2017-18 season, the Reston Community Players (RCP) is presenting the Tony Award-winning musical "Thoroughly Modern Millie." With about two dozen musical numbers composed by Jeanine Tesori ("Caroline, or Change" and "Shrek, The Musical") the show is a comic pastiche that follows a small-town young woman, Millie Dillmount, who comes to New York City thinking she will marry for money, not love.
The time is 1922 and Millie has taken an interest in the new lifestyle opportunities. But, things are not so easy, especially when unsavory characters take interest in Millie.

"Thoroughly Modern Millie" is a toe-tappin', sing-me/dance-me/entertain-me theatrical experience that will close our season on a high note," said Paul Tonden, RCP artistic director. "'Millie' will leave audiences with a smile on their faces.
"The greater Reston area is diverse and rich in culture. We strive and want to cover a full spectrum of genres, stories, emotions, styles, and experiences that will entertain, inform, and delight all of our patrons and give our artists varied, interesting experiences as well," added Tonden.
Duane Monhan is helming and choreographing "Millie" for the RCP. "The production is an homage to 1920s New York City. It is dedicated to all of those small town dreamers who came there with dreams and aspirations. We all have plans for our lives and sometimes those plans don't always work. Those of us who can adapt and adjust are the ones who succeed in the long run."

The character Millie is portrayed by veteran Evie Korovesis. "The 1920s are fabulous and so the dancing and costumes reflect that. Not to mention in this day and age it's all about the modern woman and what do the women go for…money or love? Can you have both?"
For Rinaldo Martinez, who plays the male lead, Jimmy Smith, the show is "pure Broadway with a purely Broadway story. Audiences can expect a little bit of everything: the big love story, the big dance and tap numbers, the big personalities portrayed by each of the characters, and catchy Broadway tunes."
Inviting audiences to see "Millie" Martinez said, "I promise you will leave the theater in awe of the music, the dancing, and the voices."
Korovesis added, "There's something for everyone of every age! There's lots of tap dancing and so many funny characters. There's not one ounce of foul language and the context is fun and light-hearted."