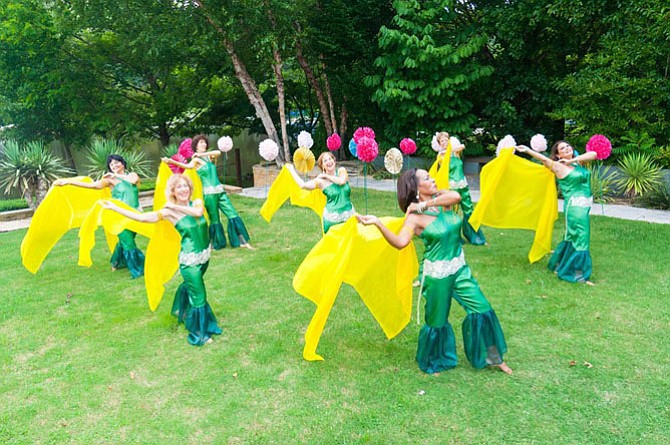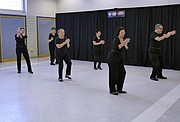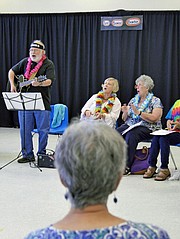 Lee Line Dancers are lined up at the doorway waiting to perform in the Lee Senior Center Performing Arts Showcase on Saturday, Sept. 23. The audience has filled up the chairs and is spilling out into the hallway.
"Hi, I'm Carl," introduces the first act, Carl Gold Folk Music Chorus. The group of 14 will sing six selections. Gold announces the opening song is "Let's Get Together" by The Youngbloods. "We're gonna get together and love each other right now." The audience joins in, and a man in the back row of the audience imitates Carl Gold by playing the guitar with his cane.
Gold changes the mood back to the British Isles with a tune popularized by Peter, Paul and Mary, "With a Little Help from My Friends." "Who doesn't like them?" Then finally to the sing-along with "We Shall Overcome."
Next come the line dancers opening with "Putting on the Ritz." Dressed in black with a black top hat studded with a rhinestone band and a sparkling cane to match, they look the part. Kat Fanelli, the dance instructor and leader of the group, has been line dancing since 1992. Fanelli said she started in a different location to be able to compete in the Senior Olympics. "But it isn't a sport anymore." She says there is a larger group but the ones here today are the people who like performing. Fanelli says they perform all over and will be doing the Halloween Thriller Dance at the Lincolnia Senior Center in Alexandria on Oct. 25.
Five, six, seven and they begin the cha, cha, cha, moving back and forth in synchronized steps in their final number "Stay."
Bernadine Gibbs, one of the group, says, "I love line dancing. I'd rather do it than eating." She says it is her passion but she started in ballet when she was about 8 years old.
Bill Wong, another member, says he has been line dancing for 10 years and he alternates with ballroom dancing, especially the West Coast swing.
Sun Yang adds, "I do line dancing, tennis, pickleball, I do whatever."
After the intermission the Sultanas perform dressed in long, colorful kaftans. The program describes their presentation as "a melange of emotions and musical styles depicting an evolution from despair, hope and strength."
Susan Marquis, a member of the group, describes it as a mixture of belly dance and modern dance.
Also on the program are Tom and Fran's Partner Dance performing Dimeto and Night Fever.
And the winner is …. well, since this was a performing showcase and not a talent show, Adriana Carr, director of the Lee Senior Center declares, "They're all winners."