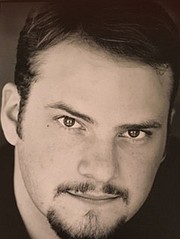 Evan Hershey Helmuth passed away in Los Angeles, Calif. on July 18, 2017 of complications from a stroke. Born in 1977, Evan lived in Reston until age 10, when he moved with his family to Ames, Iowa. For many summers, he attended the Interlochen Arts Camp in northern Michigan, followed by three years of high school at the year-round Interlochen Arts Academy. He graduated from the Academy in 1995 as a theater major, receiving the school's highest award for an individual arts graduate. He further pursued his dramatic studies at the University of Southern California School of Dramatic Arts, where he received numerous awards and graduated in 1999 with the Jack Nicholson Award for outstanding actor. He lived in Los Angeles since that time.
Helmuth's film credits include the Farrelly Brothers' "Fever Pitch" where he appeared opposite Jimmy Fallon and Drew Barrymore as Fallon's Red Sox-loving sidekick Troy; William Brent Bell's 2012 horror movie "The Devil Inside" as Father David; and Joshua Michael Stern's 2013 Steve Jobs biopic "Jobs" starring Ashton Kutcher. His TV credits spanned the likes of ABC's "Alias," CBS' NCIS, Fox's "Bones," TNT's "Rizzoli & Isles" and more recently CBS' comedic drama "Battle Creek."
Evan is remembered as a warm, kind, generous, and talented person by family and friends. He is survived by his sister, Erika Fairchild Helmuth Saunders of Hershey, Pa.; his stepmother, Paula Forrest of Ames, Iowa; and his beloved dog Sasha. He was preceded in death by his father John William Helmuth and his mother Kerry O'Brien Helmuth. Memorial contributions can be sent in Evan's name to the University of Southern California School of Dramatic Arts and the Interlochen Center for the Arts, Theatre Division.