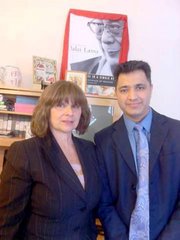 Although it is a little over six years since I first landed in the USA from Nepal, it is not too early to say that I am living the dream. For me, the American dream is not about amassing money and living in luxury, but about living freely and fully in mutual harmony in a community. It is about happily raising a family in a peaceful and safe environment, giving kids the best education possible, and adapting to the American culture of "giving."
The American dream does not come easily, as some people think, since it is about relentlessly engaging in fields of endeavor with utmost honesty and diligence. I remember my wife and I being car-less, near penniless, and spending half the days transferring buses and trains to get to assignments or training school. Had we been a little languid during those hard times, we would not be who and where we are today. We were equally happy to celebrate our daughter's fourth birthday in our new homeland although we did not have a camera to capture the birthday moments.
There are nations where hard work is not always rewarded, due to deeply disturbing socio-political environments. There are cultures with dutifully resilient people whose dreams are forever out of reach. I discovered America as a place where people can actually achieve their dreams by discovering and rediscovering their respective places in the society, utilize America's freedom, liberty and vast support resources, and constantly improving themselves.
Working at The Washington Post was rewarding in many ways. The best lesson I learned while at the Post was that I needed to unlearn first and then seek a niche acceptable to tomorrow's market.
Hosting the TV talk-show, "American Conversations: Connecting Frontiers," and interviewing experts and expat community leaders on issues that matter the most to the Nepali Diaspora community is a pleasant experience. And this was made possible because of the resourceful public and private American dynamics. Specifically, Fairfax County, where I live, provided me almost everything—opportunity, basic training, a platform to grow and a pat on the back from friends like Hans Sawyer who is a life-long friend of Nepal and Tibet.
My other profession takes me to almost all the wonderful states on the East Coast and some in the Midwest. I was offered a move to Atlanta for a job with more money. But we loved Fairfax so much that we decided to make it our hometown.
Krishna Sharma is president of the Vision for Nepal Foundation.